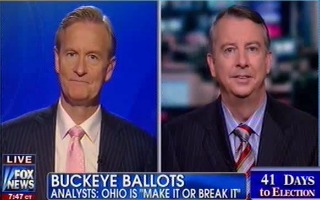 Former Republican National Committee chairman and advisor to Mitt Romney's presidential campaign, Ed Gillespie, appeared on Fox & Friends on Wednesday morning to vent some frustrations with recent public polling showing his candidate trailing President Barack Obama. Gillespie echoed orthodoxy among conservative bloggers that pollsters are oversampling Democrats and showing the race to be far less competitive than it probably is at this stage. He focused on Ohio which, as is often said, is critical to Romney's electoral prospects. But sampling alone does not explain why Romney should be closer to even with Obama – the samples of the Buckeye State are quite reasonable. This should worry the Romney campaign and get them focusing on messaging rather than attacking pollsters.
Steve Doocy asked Gillespie if the public polling that shows Obama leading Romney by rather dramatic margins is in any way similar to the Romney campaign's internal polling.
"It is not consistent with our polling, Steve," said Gillespie. "There are three swing state polls out today and every single one of them they have a Democratic voter participation that is higher than the participation in the electorate in 2008. I don't know anyone on the ground in any of these swing states who believe that there will be a higher Democratic percentage of the electorate in 2012 than 2008."
Gillespie said that Romney's tie or lead in many polls among independent voters does not comport with results that show Obama with a wide lead overall. He says that their turnout models show that, even if the vote were held today, the election would be much closer than public polling suggests.
The Real Clear Politics average of Ohio polls show Obama with slightly more than a 5 point lead. Ohio, somewhat more resistant to the Republican ticket this cycle than other swing states, is turning sharply away from the Romney/Ryan ticket in recent days. Most troubling for the Romney camp, that trend towards President Obama is accelerating.
A recent Washington Post poll released this week which sampled 37 percent Democratic, 30 percent Republican and 30 percent independent voters in its "likely voter" model showed Obama leading Romney by eight points – with 52 to 44 percent of the vote.
A CBS/New York Times/Quinnipiac University poll released Wednesday shows Obama with a 10 point lead in Ohio at 53 to 43 percent support. In that poll's "likely voter" screen, 35 percent of those sampled identify as Democrats, 35 percent as independents and 26 percent as Republicans.
In 2008, the exit polls in Ohio showed that the turnout was 39 percent Democratic, 31 percent Republican and 30 percent independent. Many believe that 2008 represents the high-water mark for Democratic turnout and, given the Republican landslide in the Upper Midwest in the 2010 midterm elections, few expect 2012's turnout to mirror 2008's.
That said, CBS/NYT/Quinnipiac give Democrats a 9 point advantage over Republicans, compared to the 8 point advantage they held in 2008. But the Washington Post's poll slightly under samples Democrats in relation to their 2008 turnout, giving them only a 7 point advantage over Republicans. These are not overwhelmingly misrepresentative samples.
Other questions within these polls point to areas where Obama's lead can be more easily explained. In the CBS/NYT/Quinnipiac survey, 59 percent of voters believe Obama "cares about the needs and problems of people like you." Only 38 percent said the same of Romney. 49 percent of voters said that the economy is their primary concern this year, and voters gave Obama a 51 to 45 percent lead on that issue – formerly, one of Romney's persistent strengths over Obama.
It should also be noted that these polls were in the field just as the Romney "47 percent" video broke and received the most coverage.
Some polls can oversample Democrats and sometimes it can be egregious (Today's CBS/NYT/Quinnipiac poll of Florida is conspicuously out of line with even 2008 turnout). However, polls of Ohio have been largely steady around 2008 models and, with enthusiasm roughly equal between Democrats and Republicans following the conventions, it is a fair assumption for pollsters to assemble a "likely voter" model that shows turnout in the Buckeye state similar to 2008. It would be presumptuous for pollsters to assume that Republicans would recoup an enthusiasm edge over Democrats that they do not have today.
It is perfectly acceptable to dissect polls. Those who defend pollster modeling as gospel because they like the outcome of an individual survey always strike me as suspect observers of political realities. However, "don't believe the polls" is the Hitler's bunker political analysis. It is the last rallying cry to keep the troops from surrendering en mass – or, in a more electoral context, becoming dispirited and staying home on election day.
While that may be the job of a political strategist like Gillespie, it is perhaps wiser for members of the Romney camp to fully accept the challenges they face in Ohio. They need a distinct turnaround in that and other swing states. This is not an impossible feat with more than 40 days left to go before Election Day and prior to the first debate. After all, they didn't used to call Mitt Romney a "turnaround artist" for nothing.
Watch this segment below via Fox News Channel:
> >Follow Noah Rothman (@Noah_C_Rothman) on Twitter
Have a tip we should know? tips@mediaite.com