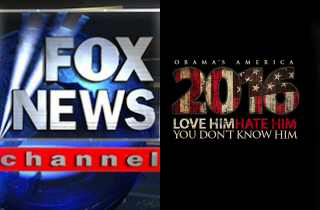 After racking up enough ticket sales to make it the second-highest grossing political documentary in U.S. box-office history, 2016: Obama's America experienced a steep decline in ticket sales, dropping 53-percent in the most recent weekend compared with the previous one.
Aside from the normal rise-and-fall of box office figures over time, the filmmakers lay at least partial blame on what they see as a possible coordinated effort to decrease the movie's box-office intake by spreading disinformation about its availability for free on YouTube and on the Fox News Channel.
The YouTube edition of the movie was a pirated one (and has been taken down); and the reports that the documentary would air on Fox News… are patently false.
That particular rumor seems to have originated with a post on a conservative women's website called SmartGirlPolitics.com, who have since removed the post and apologized for the erroneous claims.
"Last night we were made aware that someone posted an erroneous blog post on our user blogs regarding the movie 2016 being shown on Fox News," the website's president wrote, according to The Hollywood Reporter. "It was immediately taken down, but unfortunately, a handful of people had already responded to it through Twitter. This was not, in any way, something posted by Smart Girl Politics or any member of our team."
THR also points out that mass e-mails went out this weekend, claiming that the cable channel was going to air the documentary in its entirety:
"Fox News is going to air the documentary Obama 2016. To all Americans, Democrat, Independents, right or left, heads up for this Sunday night," one email reads.

"Important. Looks that Fox News is going to air the documentary Obama 2016. Heads up for this Sunday night 9:00 p.m.," reads another.
We reached out to Fox News and they confirmed that they have no plans to air the movie on the cable channel.
There is no clear evidence whether the false Fox rumors and the pirated YouTube version were the result of overzealous fans or, as the filmmakers believe, an intentionally misleading campaign to halt the movie's success.
But the film's director Dinesh D'Souza maintains it was, indeed, a misinformation campaign. He told the THR: "The reports of the movie appearing on Fox before the election are completely untrue, and we strongly suspect that they are the result of dirty tricks by our opponents who spread this rumor in order to confuse the general public and keep them from going to their local theaters."
— —
>> Follow Andrew Kirell (@AndrewKirell) on Twitter
Have a tip we should know? [email protected]