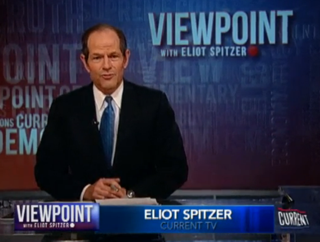 It was a fairly busy Friday at Current TV, as the network broke the news that their 8PM anchor, Keith Olbermann, was out at the network over a series of infractions that amount mostly to lack of respect, and that, in return, Olbermann was taking legal action. It took little time for the network to announce Eliot Spitzer as the new flagship hosts, and his show, Viewpoint, debuted last night. Spitzer dove straight into the issues, with little explanation of the show, and no indication that Olbermann had ever existed.

RELATED: Keith Olbermann Fired For Breach Of Contract; Olbermann Responds To Firing
Spitzer opened with a short intro explaining that his show was aimed at finding facts, and giving a shoutout to John Adams, of all people, but not Olbermann (Adams got mention for the phrase "facts are stubborn little things"). Spitzer then got right to the chase with the topics of the day, with little to indicate the program was new, and that it exists when it exists because of a falling out with the timeslots previous occupant and the powers that be. Compare this to the somber and respectful goodbye that Olbermann's successor at MSNBC, Lawrence O'Donnell, gave him when manning the 8PM hour, and the difference is even more obvious.
There are, of course, good reasons for this– O'Donnell in great part got his start because of Olbermann at MSNBC; Olbermann was around that network long enough that his influence in the programming was clear. At Current, he didn't last two years and, if the sources and implications in their official statement are to be believed, he didn't seem to make many friends there.
Spitzer's debut via Current TV below:

Have a tip we should know? tips@mediaite.com