No Quería Ofenderle: President's PR Flack Forget Univision Now a Major Media Player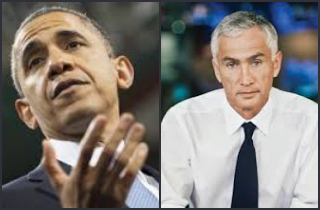 President Obama is set to do six interviews with six different English-speaking outlets to sell his push for military action on Syria.
And of the six (ABC, NBC, CBS, CNN, Fox News Channel and PBS), not one of them is called "Univision."
We talk about ratings often here at Mediaite. Some folks feel audience size isn't important. But to not use some kind of indicator of whether a program is connecting with an audience and/or is successful or not would be like stating that Peyton Manning played well on Thursday night, but not providing any stats (7 TDs) or a final score (49-27).
No ratings eventually means no show.
Numbers do matter.
In this regard, Univision is a network that absolutely deserves to be in the same breath as its English-speaking counterparts. In fact, this past July, Univision finished #1 for the month in the key 25-54 demo (the group advertisers most covet), beating ABC, CBS, Fox and NBC. And this isn't just a summer blip: Univision tied ABC in the demo during last week's post-Labor Day intro to the fall season.
The President may say, "No quería ofenderle…" (I meant no disrespect) after the fact, but it will likely won't matter to Jorge Ramos, the outspoken Univision anchor who took to Twitter to blast Mr. Obama: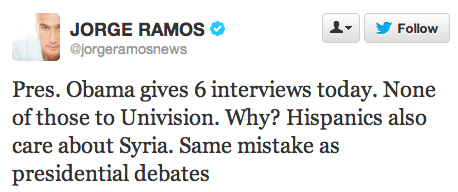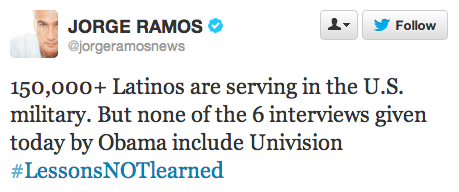 All solid points by Mr. Ramos, the same anchor who was one of the few to ask the President any tough questions during the 2012 campaign.
Maybe it wasn't because Univision was overlooked. More like it wanted to be avoided…
So much for outreach to the Latino community…
And so it goes in the PR disaster that has been the Obama Administration response to the situation in Syria.
In a CNN poll released today, 60 percent of the public opposes any military action.
Lawmakers from both sides of the aisle will also vote no in startling numbers.
Even Russia somehow upstaged the President today by officially offering a non-military solution (offering to put Syria's chemical weapons under international control)…a proposal Syria agreed to in about 24 seconds (although many practical people will see Russia's solution for what it is: A diversion to delay and confuse an already confused leader of the free world).
By going on a media tour to sell something that can't be sold, the President only shows he still thinks he's in front of those Greek columns in Denver on a summer night in 2008.
Still thinks his lofty rhetoric carries any weight.
And in the process, pissed off the new number #1 network in the country…
Forget don't mess with Assad…
Don't mess with Univision.
— —
>> Follow Joe Concha on Twitter @ConchSports
Have a tip we should know? tips@mediaite.com