No-Spin Zone: Scott Brown Anchors O'Reilly Factor, Clashes With Guests Over Gov't Spending 'Gone Wild'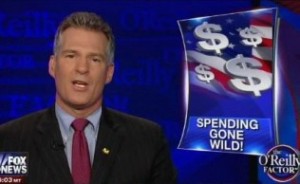 "Caution," former Massachusetts Sen. Scott Brown declared in lackluster fashion on Monday night, stepping into Bill O'Reilly's shoes. "You are now entering the no-spin zone." And thus his first night hosting The O'Reilly Factor (not an April Fools' joke) began. After a "Talking Points Memo" asserting the "joke's on us" (if we think the country's problems are close to being resolved), Brown turned to his panel to discuss.
"Every day in D.C. is April Fools' Day," Brown observed before delving further into our government spending "gone wild," asking for input from liberal talk radio host Leslie Marshall who asserted we have enough other areas we should be cutting from before getting to Social Security and Medicare.
Brown urged a "top-to-bottom review of ever federal program," and make all those cuts before asking for additional tax revenue. Republican strategist Loretta Lepore agreed, calling for a look at the fundamental role of the government. Beyond the basics, she said, "everything is up for discussion" when it comes to cuts.
The latter half of the segment then turned to the latest controversy surrounding President Obama: the Easter sermon, in which the reverend criticized the "captains of the religious right." Brown quickly said this type of rhetoric is unhelpful and not good for the country, which, largely, is "handling" the issue of the race "in a thoughtful, judicious manner."
Marshall begged to differ, acknowledging that she cannot stand any type of political preaching, but noting that other presidents have had the same reverend preside over services. "Unfortunate" was Lepore's characterization of choice.
Take a look, via Fox News:

Have a tip we should know? tips@mediaite.com