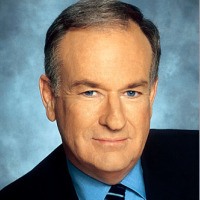 Bill O'Reilly has a TV show that has been #1 on cable news for years, best-selling books, and a robust Web presence. So it should come as no surprise he is the most influential cable news host on the Mediaite Power Grid.
O'Reilly cracks the top 5 (#4), and it takes 15 more slots down the grid to get to the second most influential cable news personality. But, it's a fellow Fox Newser.
Sean Hannity is ranked 19th on the grid, and that too should not come as a surprise. Hannity's 9pmET program on Fox News is consistently the second highest rated cable news show.
A quick glance at the rest of prime time, which is the most talked about part of cable news, reveals some telling indicators about influence.
The next prime time cable news host to pop up is CNN's Larry King, Hannity's competitor at 9pmET. King has moved up since last week to #26, in the wake of some big gets when it came to Michael Jackson coverage (including a ghost!). King's co-worker Anderson Cooper is #31, helped for getting ratings from both his 10pmET live show and the 11pmET re-run.
It takes 38 spots to get to the first MSNBC prime time host on the grid Keith Olbermann (although Chris Matthews is #24, he's not technically prime time). Olbermann is followed closely by MSNBC's other prime time host, Rachel Maddow at 41.
FNC's 10pmET anchor, Greta Van Susteren comes in 46th this week, and CNN's Campbell Brown is 84th.
Rounding out the prime time hosts, HLN's star Nancy Grace is ranked 56th, and Jane Velez-Mitchell is 172nd.
The anchors/hosts list isn't as fluid as the TV Reporters category, but every Wednesday we should see some movement. O'Reilly isn't likely to give up the top spot, and will probably stay in or near the Top 5. However, will Hannity stay #2, or does Cooper or King have momentum?  And all it may take is an Olbermann "Special Comment" to up the Google Buzz and propel him nearer to the top.
—–
• Follow Steve Krakauer on Twitter
Have a tip we should know? tips@mediaite.com