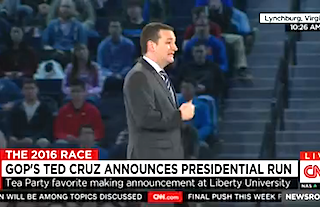 Among the things Sen. Ted Cruz (R-TX) asked his Liberty University audience to "imagine" during his 2016 presidential campaign announcement Monday morning was a "little girl living in Africa." But contrary to what some may have heard, the candidate did not say that Kenya is in Nigeria.
"Imagine another little girl living in Africa, in Kenya and Nigeria," Cruz said, according to the transcript. When one person screamed out their approval, he joked, "That's a diverse crowd."
But, because the "and" between the two African nations was not articulated as well as it could have been, people on Twitter began suggesting he was confused about his world geography:
Kenya, Nigeria. A new place on Ted Cruz' map. #GOP #tedcruz #2016 #roadtothewhitehouse https://t.co/HmPHZjVwj5

— Jeffrey Gelinas (@b3auty_k1ll3r) March 23, 2015
Did Ted Cruz just say Kenya, Nigeria or does he mean it some other way? pic.twitter.com/udUqr0eMK7

— Akintomide O (@oapeterr) March 23, 2015
kenya Nigeria ……..she was living in Kenya, Nigeria ……ted cruz needs to explain that

— Micheal_A1_BarsVille (@Micheal_A1) March 23, 2015
Did Ted Cruz just say Kenya, Nigeria???? #cnn

— Veltman OkeyEjiowhor (@veltman_c) March 23, 2015
Only Ted Cruz can change the Kenyan Capital to Nigeria, Kenya!!…

— Ogwelg_D (@Ogwelg_D) March 23, 2015
Cruz was referring to his wife, Heidi Nelson Cruz, who, according to this New York Times profile, spent parts of her childhood as a missionary "in places like Nigeria and Kenya."
He added in the speech that she would have been playing with kids who "spoke Swahili" while she only spoke English. That fact would apply to parts of Kenya, but not to Nigeria, where English is the official language and Swahili is not among the many other languages spoken.
So, while Cruz's father wants to send President Barack Obama "back to Kenya" and Cruz himself likes to joke about "Nigerian email scammers" running the Obamacare website, he does really know the difference between the two countries.
Watch video below, via CNN:
[Photo via screengrab]
— —
>> Follow Matt Wilstein (@TheMattWilstein) on Twitter
Have a tip we should know? tips@mediaite.com