Noah Rothman On Fox News Watch Tackles IRS Commish's W.H. Visits, Media's Targeting Of Bachmann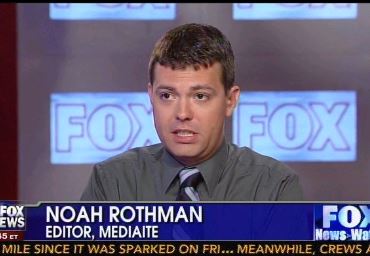 Mediaite's own Noah Rothman appeared on Fox News Watch on Saturday to discuss the kerfuffle surrounding former IRS Commissioner Douglas Shulman's reported 157 visits to the White House, which some believe might prove a smoking gun linking the Obama Administration to the IRS' targeting of conservative groups.
"Shulman wasn't being 100% forthright, obviously," Rothman said, in reference to Shulman's statement last week listing an Easter Egg hunt as a reason for some of his White House visits.
But Rothman noted that the number says less than it seems to.
"Garance Franke-Ruta had a piece in the Atlantic today which said that [Shulman] was approved 157 times," Rothman said, "but he wasn't necessarily at the White House. It was actually closer to eleven times. He was meeting with a variety of other agencies in order to implement the health care law."
Rothman read this discrepancy into a larger narrative of media coverage:
"What they're going to do, media outlets that have an interest in making this scandal a little less damaging to the White House, is they're going to elevate that fact and cast a veneer of doubt on just about every other charge. in the same way that Ben Rhodes was misquoted in the emails relating to Benghazi and that was elevated as a way to cast doubt on all the other charges, that's going to be an effort to deemphasize the significance of the scandal."
Later in the show, Scott and conservative panelist Jim Pinkerton argued that Michele Bachmann had unfairly become a target for the liberal media, who focused on her foibles rather than her politics.
"Well, she was a liability for the Republican party," Rothman said. "Mitt Romney carried her district by almost fifteen points, she carried it by a point and a half. That's really significant. And Republicans are unfortunately asked to answer for every Republican politician who does not reflect especially well on the party."
"She may be back, as Jim says," Rothman continued, "because there is a possible competitive senate race and Al Franken is up for his first reelection effort. She just might challenge Al Franken on a statewide level, and that would be fascinating."
Watch both segments here:
—
>> Follow Evan McMurry (@evanmcmurry) on Twitter
Have a tip we should know? tips@mediaite.com