Noah Rothman on Fox News Watch: 'There's Precedent' for Oprah's 'Racism' Remarks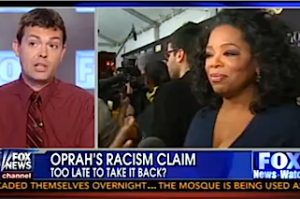 Mediaite's Noah Rothman joined the panel on Fox News Watch Saturday, leading off a discussion about Oprah Winfrey and race, in light of the media mogul's recent remarks about Trayvon Martin and experiencing racism in Switzerland. Picking up on themes from a column he wrote earlier in the week, Rothman said there's "precedent" for Winfrey tying claims racism to projects she's promoting, with this week's example being her high profile return to acting in Lee Daniels' The Butler.
"This is something of a precedent," Rothman told host Jon Scott. "It just kind of comes right before she's promoting a project, which relates to racism." He referenced her accusations of racial discrimination against Texas cattle ranchers in 1998 and a Paris store in 2005 as previous instances when Winfrey invoked racism for her own commercial gain. "There's precedent here."
Fox contributor Rick Grenell agreed with Rothman's theory, saying, "the movie The Butler opens this weekend, which is about racism and Oprah was a victim of racism. So if you think that somehow these two are not related, you don't understand that Oprah is the queen of PR and the queen of media. These two are totally related, she did a fabulous job with it, and I salute Oprah for promoting The Butler."
Meanwhile, Alan Colmes called out Rush Limbaugh for saying Winfrey was denied the service in the Swiss shop because she's "fat." Colmes asked, "maybe denying that racism would ever exist? How dare they."
To Winfrey's great credit, Lee Daniels' The Butler appears to be on track to win the weekend box office with a relatively strong $27 million gross.
Watch video below, via Fox News:
[photo via screengrab]
—
>> Follow Matt Wilstein (@TheMattWilstein) on Twitter
Have a tip we should know? tips@mediaite.com