Noam Chomsky Dismisses 9/11 Truther: Going on Internet Doesn't Make You Physicist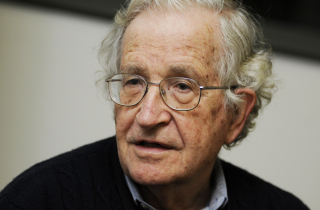 Video has emerged of a University of Florida lecture in which MIT professor Noam Chomsky dismisses a 9/11 "truther" who insists the destruction of Building 7 on Sept. 11, 2001, was a "controlled demolition" and not an outcome of the World Trade Center's collapse.
9/11 "truth" activist Bob Tuskin told Chomsky and the audience that the media had acted in collusion with the government to cover up for the conspiracy to destroy 7 World Trade Center. Tuskin pointed to various groups of construction experts who claim the building had to have been taken down by controlled demolition.
"You're right that there's a consensus among a miniscule number of architects and engineers, a tiny number, some of them are perfectly serious," Chomsky replied. "They are not doing what scientists and engineers do when they think they've discovered something."
The audience applauded.
As Raw Story writes, the professor explained:
What you do when you think you've discovered something is write articles in scientific journals, give talks at the professional societies, go to the civil engineering department at MIT or Florida or wherever you are, and present your results; then proceed to try to convince the national academies, the professional society of physicists and civil engineers, the departments in the major universities, convince them that you've discovered something.
He then took a swipe at conspiracy theorists who get their information from a few hours of Internet perusal: "There happen to be a lot of people around who spend an hour on the Internet and think they know a lot physics, but it doesn't work like that." The audience broke out in applause and laughter.
Chomsky added that there exists "very elementary evidence" that the takedown of 7 WTC was not part of some grand Bush administration conspiracy. "You don't have to be a physicist to understand it," he added. "You just have to think for a minute."
Watch below, via Tuskin's YouTube page:

[h/t Raw Story]
— —
>> Follow Andrew Kirell (@AndrewKirell) on Twitter
Have a tip we should know? tips@mediaite.com