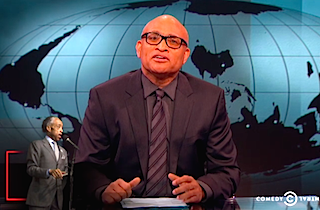 Larry Wilmore surprised some viewers when he took major shots at black figures like Al Sharpton and Bill Cosby in the first few episodes of The Nightly Show. But as he told The Hollywood Reporter's Lacey Rose in a new interview released Thursday, "Nobody gets a pass" on the new show.
"I know some people watched that show and think the opposite," Wilmore said of his premiere, which also included critical comments about Oprah Winfrey. But it was his full episode dedicated to the Cosby rape allegations that really seemed to strike a nerve with viewers.
He explained that the origins of his feelings about Cosby date back decades:
"He was never a hero of mine. I liked Cosby, but I have a different relationship with him than a lot of people because I didn't grow up on The Cosby Show. I grew up on I Spy and Chet Kincaid. I remember in the late '70s, early '80s, my mom met Bill Cosby down in San Diego at this tennis tournament. She came back and said, "We asked him for his autograph, and he was so mean, so nasty. He said, 'I don't do that.' " I was like, "Man, what an asshole." My opinion of Cosby at that point was like, "What a jerk." I never even watched The Cosby Show. I always thought, "That's great that that show is on," but about him I was like, "Whatever, Cosby." Richard Pryor was my hero. Richard Pryor was keeping it 100 [percent real].
So far, The Nightly Show has focused on several issues that have nothing to do with race, but Wilmore also has not shied away from discussing topics from a racial perspective.
"There was a part of me that didn't want to start talking about any kind of racial issue on the first show because I wanted to distinguish what I was doing," he said. "But after a while, I said, 'Who cares? It's MLK Day, that's your permission to talk about this stuff. Don't ignore the obvious. That's what you do, so just do it."
He said he doesn't worry about being "pigeonholed" because, "As long as you say I'm the guy who's real about it, I have no problem being the person who people look to to talk about race."
Read the full interview at hollywoodreporter.com.
Watch the clip of his Comedy Central premiere below:
[Photo via screengrab]
— —
>> Follow Matt Wilstein (@TheMattWilstein) on Twitter
Have a tip we should know? tips@mediaite.com