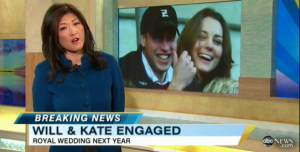 Ready for Royal Weddingpalooza? It starts NOW.
The networks reacted with the blistering speed of people who'd nearly given up on the Prince ever popping the question (years they waited, years!), launching immediately Tuesday morning into a frenzy of UK flight-booking and "Royal Engagement" special program planning. The Royals themselves haven't done as much wedding planning yet.
Kate Middleton's still getting used to Princess Diana's ring being on her finger and already we have a DVR-load of Royals shows:

From ABC:
ABC News' Terry Moran will anchor a special edition of "Nightline" called "Nightline: A Very British Wedding" airing this evening, November16 at 11:35 p.m. (ET/PT). In this special edition, "Nightline" will report on the Royal engagement, the soon-to-be Princess, Kate Middleton, and will take an inside look at the Royal family.
From NBC:
As the Royal family announces the highly-anticipated engagement of Prince William and Kate Middleton, "Dateline" takes a special look at how the couple met, what drew them to each other and what their modern day marriage will mean for the British Monarchy. The hour-long report, "William & Kate: A Royal Love Story," reported on by Kate Snow, airs Wednesday, Nov. 17 at 8:00 PM/ET. It includes interviews with longtime friends and exclusive video of the future princess.
And from CBS:
Erica Hill anchors THE EARLY SHOW: "Royal Engagement" live from outside Buckingham Palace on Wednesday, Nov. 17 (7:00-9:00 AM, ET/PT) on the CBS Television Network. Hill will cover all aspects of the engagement of Prince William to Kate Middleton, including public reaction to the announcement and the history of royal weddings. Harry Smith and Maggie Rodriguez will co-anchor the broadcast from New York.
You can pretty much bet the ranch that graphics designers and special projects producers are being pumped full of espresso shots so they can work through the night on elaborate "Royal Engagement" graphics, bumps and promos for Wednesday's morning shows. You simply won't be able to avoid it. Unless, of course, you chill in the funky political coffee house known as MSNBC's Morning Joe.
Joe Scarborough and Mika Brzezinski are not the types to drop everything and dash "over the pond" for something as way beyond the Beltway as a Royal Wedding.
The big story out of the UK in the world of Morning Joe? The Beatles catalogue coming to iTunes. Scarborough hit twitter to rave: "FINALLY!"
Major irony department: for all its focus on politics, debate and jamming to their favorite tunes, the Morning Joe gang actually may have broken the story of Prince William's proposal on the air Tuesday–a breaking news bit that sent their morning show competitors lurching into a frenzy.
Have a tip we should know? tips@mediaite.com