Norah O'Donnell Grills Emanuel For Telling Obama AG To 'Shut The F**k Up' About Assault Weapons Ban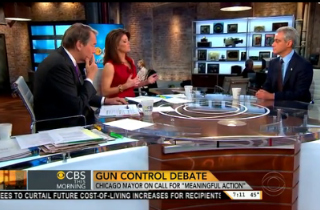 During an interview about gun violence, CBS This Morning host Norah O'Donnell grilled former White House Chief of Staff Rahm Emanuel for reportedly once telling Obama's Attorney General Eric Holder to "shut the fuck up" about reinstating the assault weapons ban back in 2009.
"I want to ask you about what led us to this point," O'Donnell began the grilling. "The assault weapons ban expired in 2004. You were President Obama's Chief of Staff and in 2009, according to the book Killer Catcher, you were furious with Attorney General Holder who held a press conference in February of 2009 saying that the Obama administration was going to reinstitute, push the assault weapons ban, and that you sent word to Justice that Holder needed to "shut [the fuck] up on guns."
"First of all, that's a book," Emanuel replied. "President Obama always stood for getting this done."
O'Donnell pressed again: "I want you to explain that. Were you worried about the political backlash of taking on and pushing for the assault weapons ban? Why didn't Obama do that?"
"First of all, the president's record is very, very clear on this," Emanuel pushed back. "It's clear when he was a state senator, it was clear when he was also a U.S. senator, it was clear also as a president. He was dealing — as you well know — with a myriad of issues. And he was pushing very hard and making sure also that we had the funding to do everything we needed to do in the Justice Department.
O'Donnell then brought up the fact that the pro-gun control Brady Campaign gave President Obama an "F" grade for his first term. She also noted: "You weren't at the White House then, but the Justice Department went to the White House with ways to expand the background check system in order to reduce the risk of guns falling in the hands of mentally ill people, and there was a decision made not to go that far."
"What I guess i'm trying to ask — not assign blame — but, politically, how hard is it to take on the NRA?" she then asked, suggesting that Obama's lack of gun control measures were a result of the NRA's powerful influence..
"Having fought to pass the Brady Bill and the assault weapons ban — the last time you really had gun control — it is very hard," replied Emanuel. "I think it's essential to have a vote of conscience. Put it up [for vote]. People know what happened here."
Co-host Charlie Rose then got in on the conversation, adding that "I don't understand why people who did not have the political will to go forward don't simply acknowledge it and say I've come around, as some have, including the president."
Emanuel took issue with that characterization of the president, but Rose interrupted: "No, the president did not do all that he could, and you know it. I suspect he knows it. But the more important thing is: is it now time to stand up to the NRA?"
"There's no doubt you have an event that's changed everybody's attitude," Emanuel replied.
Watch below, via CBS:
[h/t Raw Story]
— —
>> Follow Andrew Kirell (@AndrewKirell) on Twitter
Have a tip we should know? [email protected]