Norah O'Donnell Hammers John Boehner: 'When You Repeal [Obamacare], What Are You Going To Replace It With?'
Norah O'Donnell To Boehner: 'What Are You Going To Replace [ObamaCare] With?'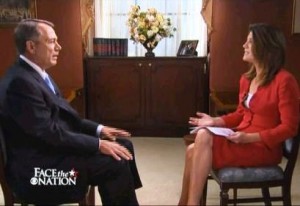 CBS News correspondent Norah O'Donnell faced off with House Speaker John Boehner in a contentious interview that focused on the Supreme Court's ruling upholding the constitutionality of the Affordable Care Act and what the Republicans' alternatives are. O'Donnell repeatedly pushed Boehner to say specifically what he likes and dislikes about the law, and asking him point-blank, "when you repeal it, what are you going to replace it with?"
RELATED: Chris Wallace Repeatedly Grills Sen. Mitch McConnell To Explain How GOP Will Cover Uninsured
Boehner said that the notion of government being able to mandate that Americans have to buy a product is "shocking," but conceded that he respects the decision of the Supreme Court. On a more optimistic note, he says that at least the ruling has given new life to Republican efforts to get the law repealed once and for all. O'Donnell said that so far, Congress has voted 30 times to repeal Obamacare (a figure Boehner himself cites on his website). She asked him, "What's one more vote going to do? What's the point?"
Boehner explained he wants to be able to show the American people the Republican party is fully committed to repealing the law. And while it may have been ruled constitutional, Boehner pointed out, the Supreme Court decision never said if it was a good law or not. O'Donnell asked if there was anything good about the law. Boehner admitted there are good parts of it, which O'Donnell honed in on to ask the Speaker specifically what he would keep and what he would cut.
O'Donnell brought up provisions included in the bill like free mammograms provided under Medicare and staying on your parents' insurance until you turn 26, the latter of which Boehner affirmed his support for. When O'Donnell tried to press him further, Boehner insisted all the Republicans would do is take a "common-sense, step-by-step approach to replacing this law." As for the issue of preexisting conditions, Boehner echoed what Senate Minority Leader Mitch McConnell said on Fox News Sunday, that state-by-state high risk polls are a preferable alternative to how it is done in the current law.
Trying once again to push Boehner into getting specific, O'Donnell asked him, "when you repeal this, what are you going to replace it with?"
Boehner went back to insisting on a "common-sense" approach, and claimed that the Affordable Care Act is driving up health care costs all over the country and making it harder for small business to hire workers. O'Donnell asked Boehner to elaborate on the second point, to which the Speaker said they're being "required to [either] buy health insurance or pay a fine." He quickly corrected himself by saying it's apparently a tax now.
RELATED: Huckabee On Health Care Ruling: 'It Is A Tax Because The Supreme Court Says So'
After a back-and-forth on just exactly how the law affects small businesses, O'Donnell called Boehner out for not being specific enough with his answers.
"When I talked about some of the specific provisions, you said you want a common-sense approach, but why not be specific about exactly what kind of protections you want to provide individuals? You won't be specific. Why won't you say you won't prevent discrimination against preexisting conditions?"
Boehner went down a list of other specific issues he thinks were not properly addressed by the Affordable Care Act, including medical malpractice reform. O'Donnell told Boehner that if there are some parts of the law that he likes, why can't he just work together with the president on health care reform instead of pushing for repeal. Boehner insisted that in order for real reform, the current law needs to be "ripped out by its roots" and Congress should start over.
Watch the video below, courtesy of CBS:
Have a tip we should know? tips@mediaite.com
Josh Feldman - Senior Editor