Norah O'Donnell: Tone Of The Campaign 'Is A Question Obama Has To Answer For'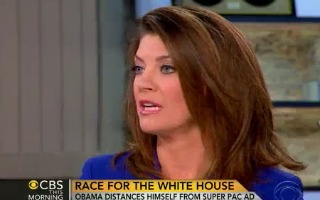 CBS News reporter Norah O'Donnell weighed in on President Barack Obama's elusive answer to a CBS reporter's question yesterday in which the President chose not to denounce the infamous "cancer" ad put out by a pro-Obama Super PAC with ties to former White House staffers. "This is a question which Obama has to answer for, which is about the tone of the campaign," said O'Donnell.

During a press conference with the White House press corps on Monday, President Obama was asked to address the controversial ad put out by a Super PAC friendly to his campaign, which links Mitt Romney to the death of a steelworker's wife.
"I don't think that Governor Romney is somehow responsible for the death of the woman that was portrayed in that ad," said Obama. "But keep in mind, this is an ad that I didn't approve, I didn't produce and, as far as I can tell, has barely run."
O'Donnell was asked why she thought that the President didn't just denounce the ad outright.
"That's a very interesting point," said O'Donnell. "I thought it was noteworthy that the President knew that it had only aired just once. That's how he knows the level of detail – even though it is not his campaign that is running this ad."
"Many people believe that Obama was about hope and change in 2008, but it is true he ran a very negative campaign in 2008 as well," said O'Donnell, in reference mostly to the brutal primary fight that Obama waged against then Sen. Hillary Clinton.
Watch the segment below via CBS News:
> >Follow Noah Rothman (@Noah_C_Rothman) on Twitter
Have a tip we should know? tips@mediaite.com