Norquist Responds To Pledge Backlash: 'We've Had Some People Discussing Impure Thoughts On National TV'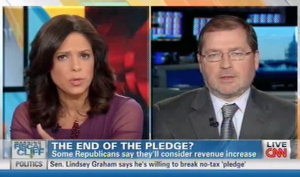 Grover Norquist, the man behind the pledge not to vote for a tax increase, paid a visit to Soledad O'Brien on CNN's Starting Point on Monday to react to the recent flurry of GOP lawmakers who have stepped back from their commitment to the pledge.
O'Brien began by referring back to remarks by Republicans including Sen. John McCain, Sen. Lindsey Graham and Sen. Saxby Chambliss. Asked whether the pledge may be losing its grip, Norquist replied that those lawmakers aren't voicing new positions on the issue. "They all said that two years ago when we were arguing over the debt ceiling limit," he said. "So their position hasn't changed." They're speaking only for themselves, he added.
Norquist further responded to those lawmakers suggesting their commitment to the pledge has an expiration date of sorts. They know "full well" that it's a commitment for the period of time they're in Congress, he said, "not a two-year period." To that point, he reiterated an argument he's made previously: The commitment is to voters, not to him.
"But the pledge does come from you," O'Brien noted. "This is really your pledge."
"We share it. It's on our website. We share it with voters," Norquist said. "We encourage candidates to make a commitment."
Later, O'Brien asked Norquist whether he worries more Republicans will "rip up their pledges," whether they might be inspired by those who have already stepped back from it.
"No pledge-taker has voted for a tax increase," Norquist said. "We've had some people discussing impure thoughts on national television."
But if a pledge-taker were to agree to a compromise including tax increases and sign onto it, "would you then target that lawmaker?" O'Brien asked.
Prodded for an answer, Norquist replied, "We would certainly highlight who has kept their commitment and who hasn't."
He went on to suggest that the negotiations should be "in front of C-SPAN cameras" — an idea O'Brien agreed with.
Watch below, via CNN:

Have a tip we should know? tips@mediaite.com