Norquist To MSNBC: Obama 'Thinks Somebody Made Him King,' Doesn't Know 'Where He Stands In The Universe'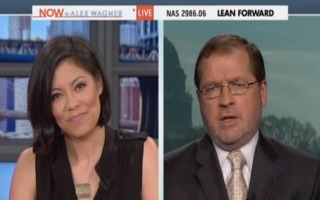 Americans for Tax Reform chief Grover Norquist joined Alex Wagner on MSNBC's NOW to discuss the current status of negotiations between President Barack Obama and Congressional Republicans to avoid the upcoming fiscal cliff. Norquist told the MSNBC host that he thinks President Obama is overplaying his hand in these negotiations, as he did in his first term, and Obama will cede the political advantage to Republicans because he "doesn't have the mandate he thinks he does."

Wagner asked Norquist if he supported the plan put forward by Speaker John Boehner (R-OH). Norquist replied that Boehner's plan is "amorphous," and said that there is danger in projecting revenues through closing deductions. He advocated for a plan that would focus on growth in order to reduce the nation's debt burden.
Norquist slammed the White House's fiscal cliff proposal, which includes new spending and stimulus proposals and counts savings from ending the Iraq and Afghanistan wars.
He warned that President Obama is in danger of providing the Republicans in Congress with more leverage in the fiscal cliff negotiations than they entered them with. He says that a similar condition occurred in Obama's first term.
"Why? Because Obama overplayed his hand," Norquist said. "He's doing it again, just as he did in 2008. He thought that the country had given him a blank sheet of paper to work on. He did the stimulus spending. He went from 70 percent support down to below 50. He lost the house."
Norquist said that, because Obama won reelection, he must think "somebody made him king."
"It's a real problem for him," Norquist said. "He doesn't have the mandate he thinks he does. So, I think he takes us over the cliff because he has blinders on. He doesn't see where he stands in the universe."
Watch the clip below via MSNBC:
> >Follow Noah Rothman (@Noah_C_Rothman) on Twitter
Have a tip we should know? tips@mediaite.com