North Carolina Man Arrested After Interrupting Live News Report Screaming 'I'm That N****r!'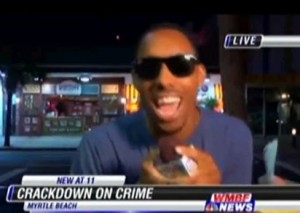 There have been many hilarious mic-snatching moments in live television, but this one is more sad than funny. While a North Carolina news reporter with WMBF, an NBC News affiliate, was giving a report on increasing crime rates in the Myrtle Beach area last Wednesday night, an African-American man rushed in, pushed her aside, grabbed her microphone, and shouted, "I'm that n****r!" The man was promptly arrested by Myrtle Beach police. Reporter Ashley Taylor appeared the following night on the broadcast to assure viewers she was all right and to report on the assault.
RELATED: Perils Of Live TV: Impassioned DWTS Fan Drops F-Bomb While Hijacking Remote CNN Shot
Police arrested local resident Justin Moore, and held him until he was released the following afternoon on a $1400 bond.
In a report from the Myrtle Beach Police Department, officers state they were contacted by the victim who said while she prepared to go live on television she and a coworker noticed a group of four to five males lingering in the area.

When Taylor began talking, she told police, one of the males knocked her out of the way, nearly causing her to fall to the pavement after grabbing her microphone.

Police officers were given pictures of the suspect, who was arrested only moments later. Video of the assault was given to police who placed the recording into evidence.
Taylor is using the incident to raise awareness about the very issue she was reporting on the first place: the rise in local crime and the need for victims' advocates in the local community.
You can watch Taylor's follow-up report, including the initial incident, here.
Watch the incident as it aired live below (NSFW):
Have a tip we should know? tips@mediaite.com
Josh Feldman - Senior Editor