Norway Terror Update: Suspect Detained Identified As 'Christian Fundamentalist'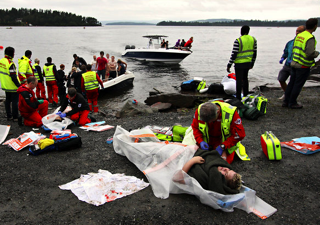 As investigators attempt to make sense of the tragic events in Norway yesterday that officials now claim left at least 92 dead both in the capital of Oslo and Utoya Island, new details have begun to surface as to the identity of the man behind the shooting, and whether he acted alone. Despite an Islamic fundamentalist group trying to take credit for the attacks, Norweigian officials have apprehended a suspect with an entirely different background: "a right-wing Christian fundamentalist who may have had an issue with Norway's multi-cultural society."
The suspect, Anders Behring Breivik, has not been identified publicly by police despite Norwegian media widely reporting it he was behind the attacks, according to CNN. The 32-year-old, however, is not suspected to have been acting alone. CNN reports:
Official sources and social media indicate that Breivik might be a right-wing Christian fundamentalist who may have had an issue with Norway's multi-cultural society. The attack may have been politically motivated, one official said. Indeed, a second person was arrested Saturday in a hotel where the prime minister was due to meet families of the victims of the attack, police said. He was carrying a knife, state-run broadcaster NRK reported.
Breivik had purchased a large amount of a type of fertilizer used to make bombs, and was found to be a member of what was described as a "Nazi web forum." Officials are still unable to confirm whether he worked alone, nor have they, according to Fox News, been able to account for all the missing on Utoya Island. They have, however, said there is "no concrete evidence" of a second shooter on the island.
Meanwhile, after initially reacting to the attack with suspicions of Islamic terror, European police operating out of The Hague have announced they will be putting together a task force to deal with right-wing terror in the continent's northern regions. A spokesman for the group noted that while "the threat from Islamic terrorism is still valid," "there have actually been warnings that  (right-wing groups) are getting more profesisonal, more aggressive in the way they attract others to their cause." This has prompted them to pay attention to these sorts of terror threats as well in a more narrowly tailored way.
Time magazine also has a riveting timeline of the attacks as they are suspected to have transpired, with the Oslo bomb set up as a diversion from the attacks on Utoya Island, suspected to have lasted an hour and a half:
The apparent attempt on the life of Prime Minister Jens Stoltenberg, at first thought to be the work of Islamist extremists, kept Norway's crack anti-terror squad pinned down in Oslo while Breivik drove to Utoeya. He flashed his ID — fake, but good enough to fool the security guards at the lake. And they wave him in. "He gets out of the car and shows ID, says he's sent there to check security, that that is purely routine in connection with the terror attack (in Oslo)," Simen Braenden Mortensen, one of the camp guards, told the daily Verdens Gang. "It all looks fine, and a boat is called and it carries him over to Utoeya. A few minutes passed, and then we heard shots," he said.
Below updates from Norwegian authorities via Fox News:

[Photo via NYT]
Have a tip we should know? tips@mediaite.com