Not Again! Rachel Maddow Uses Don Young's 'Wetbacks' Comment To Slam GOP's Latino Outreach Efforts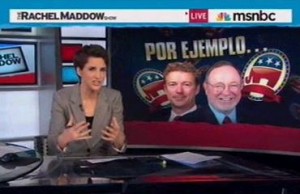 It's been less than two weeks since the Republican party releasing a report saying they will attempt to do more to reach out to and connect with the Hispanic community, and already a Republican has come out and using a Hispanic slur. Rachel Maddow tonight took on Congressman Don Young saying the word "wetbacks" in a radio interview, and pointed out how GOP leadership made being more welcoming of the Hispanic community a big priority of their rebranding efforts, "and this is how it's going so far."
RELATED: Rachel Maddow Rolls Her Eyes At GOP's New Minority Outreach Efforts: 'Not Off To A Great Start'
Maddow reminded viewers of Rand Paul's awkward, stereotype-dropping speech to the Hispanic Chamber of Commerce, in which he read a love poem by a Hispanic poet in a speech that was supposed to be a policy address. She made it clear that one of the GOP's "catastrophic failures" in the past election was "how much Latino voters do not like the Republican party," and so they're naturally trying to fix it.
But in spite of a Hispanic GOP group trying to encourage members of Congress to use more "tonally sensitive messaging points," that didn't stop Young from dropping the word "wetbacks" during his interview. Maddow was bewildered at how Republicans now need to be told not to say things like that, and in spite of Young's eventual apology, the damage was done.
Maddow also pointed out how the newly minted North Carolina governor Pat McCrory is doing away with a state office for Latino outreach after surviving for nearly 15 years under Democrats. Maddow argued that the biggest problem Latinos have with the GOP is based on policies like gay marriage and climate change.
She also brought up how the RNC is filming new ads praising Hispanics who, among other things, "help harvest our food." Maddow concluded, "This is the thing the Republican party is supposedly working on hardest, and this is how it's going so far."
Watch the video below, courtesy of MSNBC:

—–
Follow Josh Feldman on Twitter: @feldmaniac
Have a tip we should know? tips@mediaite.com
Josh Feldman - Senior Editor