Not All Of Cable News Ignored Kermit Gosnell: CNN's Jake Tapper First Covered 'House Of Horrors' On March 21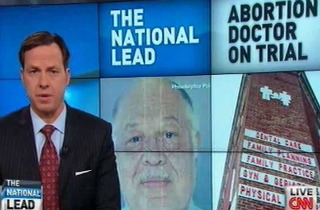 Much of the print and television media is taking it on the chin on Friday as an enraged blogosphere asks the press why they have been ignoring the outrageous story of a Philadelphia-area abortion provider who avoided inspection for years and engaged in the most horrific late-term abortion practices – including the mutilation of fetuses and preservation of dismembered appendages. But not every cable news media outlet was complicit in ignoring the story of alleged murdered Kermit Gosnell. On March 21, long before the story exploded on the internet, the tale of Gosnell's "House of Horrors" was reported on CNN by The Lead host, Jake Tapper.

RELATED: Why Is Wikipedia Considering Deleting Article On Abortion 'House Of Horrors' Doctor Kermit Gosnell?
As part of a rapid-fire segment featuring a variety of national headlines segment on The Lead, Tapper delved into the horrific details emerging in the Gosnell case.
"One by one, witnesses are sharing horror stories in the trial of a Philadelphia abortion provider," Tapper began. "The evidence in the case is so gruesome, some jurors have been seen covering their mouths."
He noted that Gosnell is accused of murdering seven babies born alive and murdering one female adult during a botched abortion procedure.
Tapper, a Philadelphia-area native, may have come across the story while keeping tabs on the goings on in his home city.
Fox News Channel anchor Bret Baier also covered the story on March 21 during his 6 p.m. EST program Special Report. FNC updated their audience on the Gosnell story in follow up stories on March 23 – 26 and again on April 4.
On Friday afternoon, Tapper will invite a reporter with the Philadelphia Inquirer on CNN to go into detail about the ongoing Gosnell trial and the horrible details of the state's case against him and his abortion practice.
Watch the clip below via CNN:
> >Follow Noah Rothman (@NoahCRothman) on Twitter
Have a tip we should know? tips@mediaite.com