Not Helpful: Rep. Fitzpatrick Calls Out Rep. Hoyer's 'Publicity Stunt' On House Floor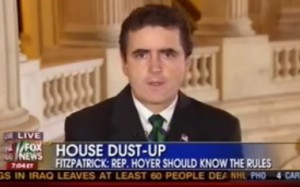 Rep. Mike Fitzpatrick, who famously adjourned the House of Representatives on Wednesday as Rep. Steny Hoyer shouted over the Congressmen walking out, was a guest on Fox and Friends Thursday morning and defended his actions, while calling for all elected officials to return to Washington and get a vote done on the payroll tax cut.
Fitzpatrick said that he didn't expect Hoyer's outburst, but adamantly defended his decision, saying that there are rules that govern the operation of the House and that, "Steny Hoyer knew what the rules were. Yesterday, he tried to break those rules and he tried to have me break them. But my job was to enforce them and I did."
Asked to explain why things played out as they did, Fitzpatrick said that it was simply a pro forma session, which is used to avoid the House going into recess. He then pleaded for members of the Senate — who "left town in the middle of the night" — to come back to D.C. from their home states and find a compromise.
"We need the Senate, and specifically the Democrats, to come back to Washington and do the jobs they were elected to do and to work this matter out — there's still time to do it. But a publicity stunt on the floor of the House was not helpful. Mr. Hoyer knew it, and I had to adjourn the House."
Fitzpatrick said that President Obama himself should call for the elected officials to come back and pass the legislation. And while he'd rather be home spending the holidays with his family, Fitzpatrick believes he is shirking responsibility if he doesn't stay in Washington, because he is being paid to do a job. He urged Congress to adopt an "all hands on deck" attitude to strike a deal before the end of the year.
"I'm hopeful," Rep. Fitzpatrick said. "There's plenty of time to get it done."
Watch a clip of Fitzpatrick's appearance below, courtesy of Fox News:
Have a tip we should know? tips@mediaite.com