'Not To Be Racial Profiling, But…' Chris Matthews Asks If FBI Can ID Boston Suspects' Ethnicity From Photos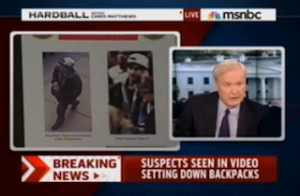 During his extensive analysis of the photos and video of suspects in the Boston Marathon bombing investigation released this afternoon by the FBI, MSNBC's Chris Matthews wondered aloud to his guests if there was any way to identify the suspects' race just by looking at the photos of their faces. Matthews must have known he was getting into tricky territory, as he prefaced his questions by saying, "To be blunt, and not to be getting into political profiling or racial profiling, but…"
Matthews continued, asking, "when you look at a picture that we're looking at now, are there people in the FBI that can look at that picture, study it ethnographically and figure what the odds are on a fellow like that being from different parts of the world, say Yemen or any other parts like that? Can they figure it out by looking at a picture?"
His expert guests, former FBI agent Don Borelli and former ATF agent James Cavanaugh, seemed fairly stumped on that question, each saying that they hadn't come across any experts who could somehow look at a photo and determine where the person is from with any degree of certainty.
"We can do that with DNA now," Matthews persisted. "You or I can go in and find out where our DNA came from. Can they do that with a face?"
Cavanaugh dismissed Matthews' notion saying "if there was some discipline like that, I suppose it would be in the academic world," but he said even if it did exist it wouldn't apply here because this investigation will "move much faster than that." He added, "the way the world is, that's pretty hard to discern."
Soon, the group was on to more speculation about what will happen next, and Matthews was forced to leave his somewhat unnerving hypothetical behind.
Watch video below, via MSNBC:
—
>> Follow Matt Wilstein (@TheMattWilstein) on Twitter
Have a tip we should know? tips@mediaite.com