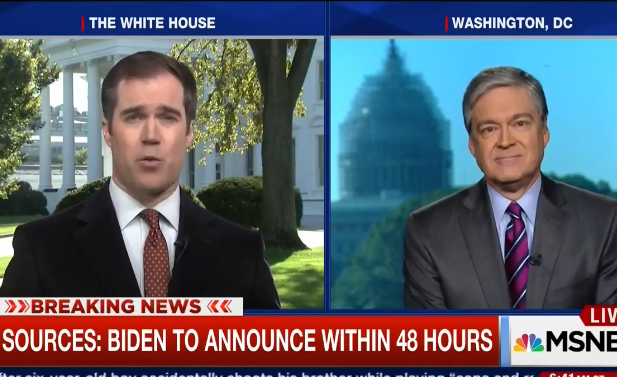 While doing my normal scroll through the cable news channels, I was suddenly struck with the MSNBC "BREAKING NEWS" banner shortly after 9:30 a.m. today. I scrambled for my remote to turn up the volume, wondering what could possibly be so important that the network would feel the need to alert its viewers about this can't-miss moment.
Did Senator Bernie Sanders score a key establishment endorsement to turn the Democratic nomination on its head? Did the dramatic chase for House Speakership blow wide open in the GOP? Did the Obama family decide on a third dog to join the ranks of Bo and Sunny?
About as ridiculous as the third one was the true breaking news, as least in the minds of MSNBC:
SOURCES: BIDEN DECISION EXPECTED WITHIN 48 HOURS
Oh wow! So it's not that Vice President Joe Biden has made his decision as to whether or not he is going to run for President; the "breaking news" element is that he will decide sometime in the next two days and someone told MSNBC. It is as if MSNBC were CNN and Joe Biden were a missing airliner.
Even as I type this, a full hour after this news "broke", MSNBC continues to glaringly highlight this drop-everything story.
I can't necessarily assume that it is the fault of Peter Alexander or Kristen Welker to speak endlessly about this non-story; but holding a special block of programming from the gates of the White House on the story is absurd, and the on-air dialogue between the two is groan-worthy.
"What are you hearing?" eagerly asks Alexander. Welker responds,  "Within 48 hours, or sooner, we'll hear confirmation." So, nothing.
Just allow yourself to think ahead to, let's say, Wednesday morning 10:10 a.m. when Biden steps up to a podium and announces his intention of becoming the next Commander In Chief. Fox News will shrug and act disinterested, but will actually very much care although it won't admit it. MSNBC on the other hand is prepared to lose its collective shit, hitting every little red button in 30 Rockefeller Plaza and paying overtime to every employee on payroll.
I know it's tough to fill the 24/7 news cycles with content that's engrossing, especially if you're third place MSNBC. But devoting your Monday morning block to a vague hypothetical wrapped in obscurity and dripped in hearsay with a guesswork bow on top is laughable.
MEDIAITE BREAKING NEWS 11:08 A.M.: We here at Mediaite have exclusively obtained a list of other items you can expect to see MSNBC roll out as "Breaking News" this week:
SEN. WARREN CONSIDERS 10:30 P.M. BED TIME UP FROM 11 P.M.

REPORTS: BOEHNER CHOOSES CHICKEN SALAD OVER TUNA

PAUL RYAN MAY BE THINKING ABOUT SOMETHING

SOURCE: NETANYAHU WEARS BLACK DRESS SOCKS, NOT BLUE

SCALIA CHANGES IPHONE RINGTONE FROM MARIMBA TO BELL TOWER
Keep it locked right here to Mediaite as we follow along for these updates.
[image via screengrab]
—
>> Follow J.D. Durkin on Twitter (@MediaiteJD)
Have a tip we should know? tips@mediaite.com