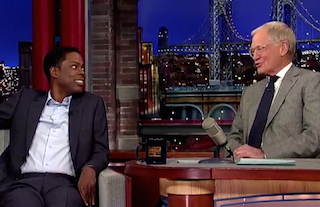 From the moment David Letterman announced his retirement earlier this year, Chris Rock was part of the conversation about possible replacements. Now, the comedian is asking Letterman why he was never considered for the gig.
After mentioning the CBS ended up giving Letterman's seat to Stephen Colbert, Rock joked, "I sat around, cleaning your cars for all these years, shining your shoes, buffering up your chifforobe, and I didn't get one offer for this job!"
Letterman quickly turned the tables on Rock, noting that all his "buddies" show up in his new film Top Five, "and I said to myself, 'Why don't I get to be in the Chris Rock movie?' Throw me a bone on my way out the door!"
"I wanted the job, Dave!" Rock continued, before confusing CBS and NBC.
"And you wonder why you didn't get the job," Letterman replied. "You don't even know where you are!"
During an interview with Esquire back in May, one of Rock's buddies Jerry Seinfeld shared this reaction to the idea of either of them taking over Letterman's job:
"I was talking to Chris Rock the other day about taking the Letterman job. I was trying to convince him to take it. He says, 'Absolutely no possible way.' Both of us are out when you hear "makeup everyday." You hear that and I'm out. But I said to him, 'What would your father do? Would your father turn down a job like that?' I go, 'What kind of father are you? What kind of man are you?' He has other ways to make money, so it's not really a fair question. But that was funny to me. To think of his father getting an opportunity like that and going, 'You know what? I don't think so. Sounds inconvenient.'"
Perhaps not coincidentally, Seinfeld and Rock were the two comedians competing with Louis CK for the Letterman gig on the three-episode Late Show arc from season three of Louie. In that fictional reality, Letterman ends up re-signing his contract for another 10 years and none of the men get the job.
Watch video below, via CBS:
[Photo via screengrab]
— —
>> Follow Matt Wilstein (@TheMattWilstein) on Twitter
Have a tip we should know? tips@mediaite.com