Now that Donald Trump is President, Alec Baldwin Feels 'Obligated' to Dial Up His Impression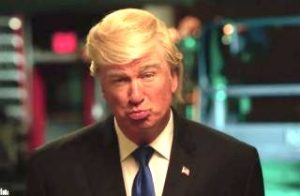 Alec Baldwin told The New York Times Tuesday that he is aware his impression of President-Elect Donald Trump may serve to "humanize" him. A friend reminded him of that, when he e-mailed Baldwin following the election sarcastically thanking him and his impression for helping Trump win.
Now that Trump is going to be President, he feels that he should go bigger with his impression on Saturday Night Live. "We have an obligation — as we would if it was him or her — to dial it up as much as we can."
Some of that includes a wig, and some makeup, which takes all of seven minutes to put on. Most of it, however, is Baldwin himself- his movements, his expressions, his gestures, and everything else he does that makes the Trump caricature come to life on screen.
Baldwin says that the most important thing he does to "be" the Donald is what he calls "puffs." These are the pauses in Trump's speech. "I see a guy who seems to pause and dig for the more precise and better language he wants to use, and never finds it… It's the same dish — it's a grilled-cheese sandwich rhetorically over and over again." It also includes the "wax on, wax off" movements he does with his hands, his "puckered lips," and his "studied lumbering gait."
As it stands, it's "dialed up" enough to make the President-Elect angry. Though he claims the show is "unwatchable," he seems to be watching. During the campaign, he Tweeted about the impression, saying it was part of the media "rigging" the election. More recently, after he had won he wrote, "Just tried watching Saturday Night Live – unwatchable! Totally biased, not funny and the Baldwin impersonation just can't get any worse. Sad."
[image via screen grab]
[H/T The Hill]
Have a tip we should know? tips@mediaite.com