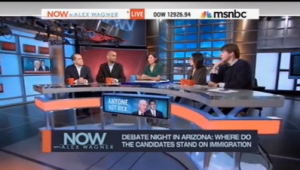 Wednesday's edition of Now with Alex Wagner took a look at the "positive vibrations" flowing between GOP candidates Ron Paul and Mitt Romney. Host Alex Wagner asked Paul's national campaign chair Jesse Benton whether — despite the two candidates' many differences — Ron Paul supporters would consider going to Mitt Romney if Paul is not the nominee.
"I think that's largely up to Governor Romney and how he wants to try to embrace them," said Benton. "If he talks to our supporters and talks about how he wants to adopt a more constitutional foreign policy, how he's open to talking about the federal reserve, and he talks about real cuts in spending, you know, there's a chance they may come his way, but that's really, really premature. We're accumulating delegates; we're running hard. We still see a strong path to the nomination for Dr. Paul."
RELATED: Ron Paul: 'I Think It's A Losing Position' For Republicans To Focus On Social Issues
Benton went on to say that the two men built up a mutual respect for one another over the course of their years spent out on the campaign trail.
Later, Wagner and The New Yorker's Kelefa Sanneh compared some of Paul's rhetoric to that of yet another GOP candidate — Rick Santorum. Paul's talk of "the remnant" and of the United States as a great Democratic experiment undermined by decadence and complacency, Sanneh said, is not too dissimilar from Santorum's language concerning the U.S. as a "great experiment" under threat by Satan.
RELATED: Media Shifts Attention To Rick Santorum's 2008 Speech About Satan's Influence On U.S.
Have a look, via MSNBC:
Have a tip we should know? tips@mediaite.com