NRA's LaPierre on Navy Yard Shooting: 'There Weren't Enough Good Guys With Guns'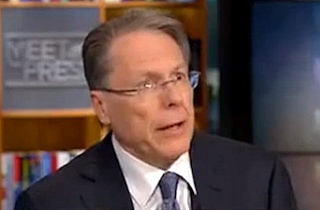 National Rifle Association Executive Vice President Wayne LaPierre appeared on Meet the Press Sunday morning to discuss last week's Navy Yard shooting that left thirteen dead, including gunman Aaron Alexis. LaPierre demanded additional security on military bases and a reform of the mental health system, as a skeptical David Gregory pressed him on the "sliding scale" that seemed to call for more and more guns in response to gun-related tragedies.
"NRA is calling today for layers of security around our military bases," LaPierre said, a similar ex cathedra statement to one he gave after the Sandy Hook shooting for armed guards in schools. "The whole country knows the problem is there weren't enough good guys with guns. When the good guys with guns got there, it stopped."
Gregory pointed out that there were armed guards at the Navy Yard.
"How could anybody look at what happened this week and say there was enough security?" LaPierre said. "We need to turn seven minutes response, we need to turn thirty minutes before they bring down the shooter, into seven seconds and thirty seconds. That's when we need to be doing and that's what I'm talking about with armed response. There's not a homeowner in northern Virginia, that if somebody is breaking in their door, would be satisfied with thirty minutes."
LaPierre also called repeatedly for an effort to fix the "broken" mental health system. Gregory asked if he would be comfortable with someone who was voluntarily committed being barred from owning a gun.
"I think if they adjudicate you like Virginia has done now, where if you're involuntarily committed or if the mental health people say you're dangerous, you need to be in the system," LaPierre responded, noting that people like Alexis needed to be committed. "If we leave these homicidal maniacs on the street—they don't obey the law, they're going to kill!"
LaPierre also brushed aside more restrictions on gun sales.
"That's what's wrong with this town," he said (though he was answering a question sent in by a viewer). "Here we have a military base completely unprotected. We have a mental system completely broken down. They're trafficking in thirteen-year-old girls down the street. There's all kinds of drugs, all kinds of guns. And the priority of this town is, hey, do you think a hunter that sells a gun to a hunter in Kansas ought to have to be under the thumb of the federal government?"
Watch the full clip below, via NBC News:
[Image via screengrab]
——
>> Follow Evan McMurry (@evanmcmurry) on Twitter
Have a tip we should know? tips@mediaite.com