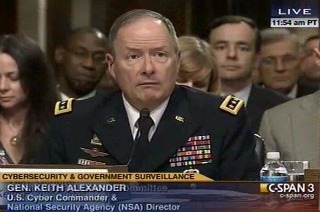 National Security Agency Director Gen. Keith Alexander testified before a Senate committee on Wednesday relating to his agency's monitoring and warehousing of the communications records of average Americans. Alexander testified that "dozens" of acts of terrorism have been thwarted as a result of these NSA programs.

Asked by Sen. Patrick Leahy (D-VT) how effective his agency's communications monitoring program has been at intercepting terror attacks, Alexander replied that "dozens of terrorist events" domestically and abroad had been prevented as a result of these programs.
Leahy asked that those cases be disclosed even if they were classified. Alexander replied that his agency would do that but they were first going through the congressional intelligence committees.
RELATED: Rep. Peter King Calls For Arrest Of Glenn Greenwald: Freedom Of Press 'Cherished,' But 'No Right Is Absolute'
"The reason that I want to get this exactly right, senator, is I want the American people to know that we're being transparent here," Alexander said.
Leahy asked specifically about a plot to attack the New York City subway system which, after the NSA programs were revealed, was said to have been one terrorist act that was thwarted as a direct result of the monitoring of American electronic and telephonic communications. Alexander said that the law which allows for that monitoring was critical to foiling of that plot.
"I want the American people to know that we're trying to be transparent here," Alexander concluded. "Protect civil liberties and privacy but also the security of this country."
Watch the clip below via C-SPAN 3:
> >Follow Noah Rothman (@NoahCRothman) on Twitter
Have a tip we should know? tips@mediaite.com