NSA, FBI Detail How Snooping Programs Prevented 'Over 50 Potential Terrorist Events'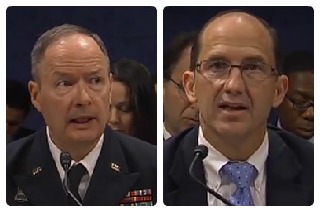 On Tuesday, during a House Intelligence Committee hearing into the revelations surrounding the National Security Agency's monitoring of American communications, members of the intelligence community testified about the success of these programs in thwarting potential terror events. Those officials detailed the plots that were thwarted because of the programs revealed by NSA leaker Edward Snowden to The Guardian newspaper.

RELATED: Obama Defends NSA On Charlie Rose, Rejects Cheney Comparison: Americans 'Not Getting The Complete Story'
"The information gathered from these programs provided the U.S. government with critical leads to help prevent over 50 potential terrorist events in more than 20 countries around the world," said NSA Director Gen. Keith Alexander, "at least 10 of these events including homeland-based threats."
"In the fall of 2009, NSA – using 702 authority [the PRISM program] – intercepted an email from a terrorist located in Pakistan," said FBI Deputy Director Sean Joyce. "That individual was talking with the individual located inside the United States talking about perfecting a recipe for explosives."
Joyce said that this person was identified as Najibullah Zazi, an aspiring terrorist, who was located in Denver, Colorado, and eventually tracked to New York City where he was arrested. He later confessed to a plot to bomb the New York City subway system with explosive devices located in backpacks.
"Also, working with FISA business records, the NSA was able to provide a previously unknown number of one of the co-conspirators, Adis Medunjanin," Joyce continued. "This was the first core Al Qaeda plot since 9/11, directed from Pakistan."
Joyce testified that the NSA used the communications monitoring programs to disrupt a plot to bomb the New York Stock Exchange. He said that the NSA programs identified David Headley, a Pakistani-American residing in Chicago, who plotted to attack a Danish newspaper office that published cartoons of the Islamic prophet Mohamed.
Watch the clip below via CNN:
> >Follow Noah Rothman (@NoahCRothman) on Twitter
Have a tip we should know? tips@mediaite.com