Numbers Don't Lie: CBS News Snubbed Ron Paul, Jon Huntsman, & Michele Bachmann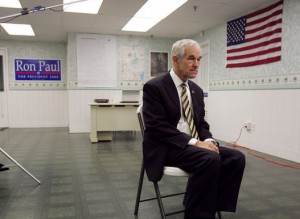 This weekend, Michele Bachmann released an email she accidentally received from CBS News Political Director John Dickerson, saying that CBS wouldn't be asking her many questions in the debate because she was, essentially, too far behind in the polls. CNN's Howard Kurtz defended the email on Reliable Sources, saying that networks have to give more questions to the more viable candidates. So it would stand to reason, if this was the line of thinking, that the candidates with the highest poll numbers would get the most questions and speaking time, while those wallowing in the basement would get the fewest.
But this didn't happen.
The latest aggregation of Republican candidate polls (according to Real Clear Politics), looks like this:
Mitt Romney 22.4%
Herman Cain 22%
Newt Gingrich 14.6%
Rick Perry 10.2%
Ron Paul 7.6%
Michele Bachmann 3.6%
Rick Santorum 1.8%
Jon Hunstman 0.6%
According to research done using the CBS News transcript of the debate and video from the debate itself, front-runner Mitt Romney actually did speak the most words (1,262). But the fourth-most words were spoken by Rick Santorum (963), who is currently in seventh place in the polls. And the volume of words wasn't just because Santorum was a fast talker; the five questions and follow-ups asked to him were the fifth-most among the candidates.
The fewest words spoken? The continually-ignored Ron Paul, who managed just 258 words over the hour-long debate; or, by comparison, just 223 more words than Scott Pelley's admonishment of the crowd for their booing.
The correlation between polling numbers and words spoken ended up being a paltry 38%, proving that the moderators failed in giving the top candidates the most airtime (although correlation between polling numbers and Q & A prompts was slightly better, at 63.8%). But if the key here was to get the top candidates more speaking time, and the lower candidates less speaking time — throwing away all ethical questions about the media managing face-time for leading candidates with almost a year left until the election — the results showed a pretty remarkable failure.
Newt Gingrich was asked the most questions and follow-ups (nine), followed by Herman Cain and Rick Perry (seven each), Mitt Romney (six), Santorum (five), Jon Huntsman (four), and Ron Paul and Michele Bachmann (three each). Romney, leading Gingrich by 8.2% in the polls, was given three fewer chances to answer questions (although he outpaced Gingrich by almost 300 words spoken overall). Santorum, who has 1.8% support in polls, had just one less prompt for answers than Paul and Bachmann combined. The duo have 11.2% support between them. Things got so obvious that, at one point in the debate, Huntsman was asked a question after a particularly long dry spell. He noted that it was, "a little lonely over here in Siberia."
To her credit, Bachmann's lack of screen time wasn't through any fault of her own. While Romney led the candidates with 210.3 words per prompt, Bachmann proved to be a talker, coming in second, with 192.7. Paul had the fewest words per prompt, using just 86 to answer his three questions, while Cain averaged just 92.9 words for his seven answers.
What does this mean? Outside of the fact that the debate, for some reason, nearly became The Rick Santorum Show, it also proved to be bad television: showing a debate on a Saturday night for one hour is a terrible idea. Not only did it end up being too small of a window to give everyone a chance to speak, but it's a ratings mess. CBS is one of the top broadcast networks, but the numbers on this hour fell behind three other earlier debates — all on cable channels. The Fox News debate on September 22 still leads all 2011 debates with 6.1 million total viewers. This CBS debate pulled in about 5.3 million, putting it in fourth place (behind Fox News, CNN, and MSNBC), and this was immediately following buzz from Rick Perry's gaffe and leftover curiosity from the Cain accusations.
Below, courtesy of ManyEyes.com, enjoy a visualization of just how skewed the candidates' "words spoken" ended up being for the televised portion of Saturday's debate: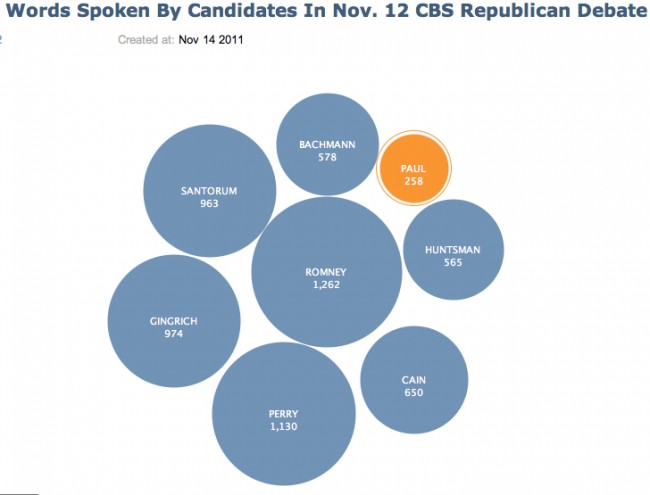 And here's a link to an interactive version of the infographic, where you can toy with the numbers or make some of your own:
Have a tip we should know? tips@mediaite.com