NY Post Columnist: Clinton Will Join Obama On Ticket And 'Biden Will Be Sleeping With The Fishes'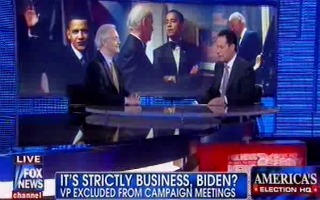 New York Post columnist Michael Goodwin appeared on Fox & Friends on Monday, where he said that he expects Vice President Joe Biden to be replaced on President Barack Obama's ticket by Sec. Hillary Clinton if the race continues to be close heading into the summer. Goodwin told Fox co-host Brian Kilmeade that "Hillary Clinton will be on the ticket and Joe Biden will be sleeping with the fishes."

RELATED: David Gregory Calls Out Joe Biden For Using Bin Laden Death To Attack Romney
Making a reference to the movie The Godfather, Goodwin said that Biden represents the "Fredo of the Obama family."
"Biden does not help the reelection effort," said Goodwin. "He goes off-message all the time. He's a real liability when it comes to pulling in a new, exciting part of the base." Goodwin said that if Sec. Clinton were to replace Biden on the President's ticket in November, it would "enliven" the Democratic base.
"I continue to believe, despite what the White House says, if it comes close in the summer – if the polls show Obama trailing – he will make the switch," said Goodwin. "Hillary Clinton will be on the ticket and Joe Biden will be sleeping with the fishes."
Klimeade asked Goodwin about his opinion of Biden's Sunday appearance on NBC's Meet The Press in which he said host David Gregory questioned Biden strongly over his assertion that former Massachusetts Gov. Mitt Romney would not have made the call that Obama made to go after Al Qaeda leader Osama bin Laden.
Goodwin said that Biden is rapidly being shut out of the Obama campaign's strategy sessions. "He's not invited to the weekly campaign strategy meetings and this to me just shows that he's not taken seriously within the administration," said Goodwin. "Even Osama bin Laden in those letters said Joe Biden is woefully unprepared to be president."
"The question is, why is [Biden] still on the ticket," Goodwin continued. "He brings nothing to the ticket now, so I believe that if the President is in trouble – look, I don't think the President wants to get him off, it would be a sign of weakness – but would he rather look weak or would he rather lose with Biden on the ticket."
Kilmeade and Goodwin concluded that Obama faces a similar conundrum that President George H.W. Bush faced with Vice President Dan Quayle and President George W. Bush faced with Vice President Dick Cheney. Neither moved to replace their running mate ahead of their reelection efforts, but while Bush 41 went on to lose his reelection bid, Goodwin said that Bush 43 won "despite Cheney."
Watch the segment below via Fox News Channel:
Have a tip we should know? tips@mediaite.com