NY Post Columnist: Hillary Clinton Already Transitioning Into Vice Presidency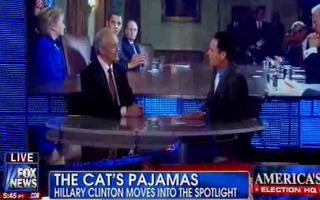 New York Post columnist and supporter of President Barack Obama in 2008, Michael Goodwin, told Fox & Friends co-host Brian Kilmeade on Monday that he believes Secretary of State Hillary Clinton is already in the process of transitioning from Cabinet Secretary to vice president.

RELATED: Hillary Clinton Spices Up Swearing-In Ceremony In Purple Cat-Eye Sunglasses
Goodwin said that last week was a conspicuously high-profile week for the Secretary and it is part of her "transition" to replacing Vice President Joe Biden on President Barack Obama's ticket in November.
"The President is in trouble," said Goodwin. "This is going to be a very tough election right now. Things are not getting better – they are actually getting worse."
He says that Clinton is the most obviously way to buoy Obama's reelection chances. Kilmeade backed up Goodwin's assertion by showing a USA Today/Gallup poll from early May which put Clinton's favorability rating at 66 percent to Biden's 42 percent.
Kilmeade challenged Goodwin for not factoring in Clinton's potential residual animosity towards Obama due to their contentious 2008 Democratic primary fight.
"I don't think she wants to do it and I don't believe he wants to have her," said Goodwin. He said that if Obama asks Clinton cannot say no.
"If he asks her and she says no and he loses, she's finished," said Goodwin. "She will not get the nomination the next time. If she helps him and they lose together, at least she was a good soldier."
Goodwin says that Clinton is a great asset among blue collar and women voters and could deliver those Rust Belt states where former Massachusetts Gov. Mitt Romney is currently running competitively with President Obama in head-to-head polls.
"She would really have to love her party," said Kilmeade.
"I think she loves the ambition more than the party," Goodwin replied.
Watch the segment below via Fox News Channel:
> >Follow Noah Rothman (@Noah_C_Rothman) on Twitter
Have a tip we should know? tips@mediaite.com