NY Post Columnist On Fox: Obama 'Has No Real Friends' Except The Press, And Now He's Alienated Them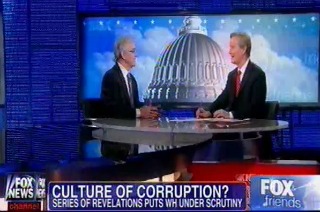 New York Post opinion columnist Michael Goodwin appeared on Fox & Friends on Wednesday morning to weigh in on the news that the Department of Justice secured two months of phone records of the Associated Press without their consent. He said that the media has been President Barack Obama's most important constituency. Now that he's angered them, and because "he has no real friends" in Washington, the president is now in real trouble.

Goodwin said that any single scandal would be enough to damage the Obama White House, but the quick succession of Benghazi, the IRS, and the AP scandals identify a "pattern that goes right to the heart of the administration."
"I conclude it's both corrupt and incompetent," Goodwin said of his latest column.
"He could defy political gravity because there was a personal appeal; people liked him and they wanted him to succeed," Goodwin added of the president. He said that, at this stage of Obama's presidency and amid scandals that are reflective of his policies and his appointees, "all the credibility evaporates."
Goodwin and Steve Doocy turned to the AP scandal which "goes to a lot of Obama's base, which is the press."
RELATED: MSNBC Guest: Unlikely Obama Approved AP Probe Since It Upset One Of His 'Most Important Constituencies — The Press'
"If you're going to go after the Associated Press, why not the New York Times too?" Goodwin asked. "Maybe they already have."
"So, I think that there's a lot of fear and loathing right now in that press room in Washington," he continued.
"How does the White House reward the mainstream media for being lapdogs? By confiscating their phone records," Doocy agreed.
The Fox host noted that POLITICO, which he called a "lefty blog," notes Wednesday that Washington is turning on the president. "That's been his core," Doocy said of the political and media class inside the Beltway.
"This president never really had personal relations with Republicans," Goodwin said. "It turns out that he doesn't have real relations with Democrats either."
"Now, when the president is isolated by theses scandals, there's nobody rushing in to help him – nobody rushing to defend him — because he has no real friends," Goodwin opined.
"Looks like vindication for those who have been warning about him all along," Doocy concluded.
Watch the clip below via Fox News Channel:
> >Follow Noah Rothman (@NoahCRothman) on Twitter
Have a tip we should know? tips@mediaite.com