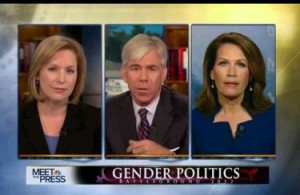 The "war on women" reached new heights today when Democratic senator Kirsten Gillibrand and Republican congresswoman Michele Bachmannn appeared to talk about Hillary Rosen's controversial comments and debate which political party is launching a war on women to begin with. Bachmann took great offense at Rosen's words, having worked as a tax litigation attorney and a mother over the course of her life.
RELATED: Fox News Watch Panel Tackles Hilary Rosen 'Grenade' Thrown Into 2012 Race
Bachmann claimed that women who are home more often and have more time to pick up groceries have a better idea of the state of the economy. She cited the statistic that over 92 percent of all job losses in the United States have been from women, and said that while some would argue that this trend began under the previous administration, Obama needs to start taking responsibility for these numbers. Gillibrand quickly dismissed Rosen's comments as "inappropriate," before emphasizing that the election will be about which candidate will be the best advocate for the people. Or in this case, women.
Gillibrand pointed to Obama giving women who want to start business more access to capital, pell grants, and other economic advantages that are "disproportionally used by women." She went after Romney's record on women's issues, but Bachmann interrupted and accused her of distorting his record. citing his job creation statistics from his time in the private sector. She also pointed out that health insurance premiums for women have "skyrocketed" in the last few years despite Obama pledging to fix it.
David Gregory then drove the conversation more towards what Rosen got in trouble for bringing up: the cultural aspect of women and the job market. He played a clip of Hillary Clinton in 1992 saying that she got her profession out of the way before her husband began his public life. Gillibrand said encouraging young women to vote is important, because of the big gender disparity within the halls of government when such issues are brought up for debate. Bachmann criticized Clinton's past comments, which she deemed as insulting to women who choose to stay at home instead of getting a job. However, Bachmann noted that all women are concerned about cost of living expenses, and ultimately economic issues like those will have more sway over voters than anything else.
Watch the video below, courtesy of NBC:
Have a tip we should know? tips@mediaite.com
Josh Feldman - Senior Editor