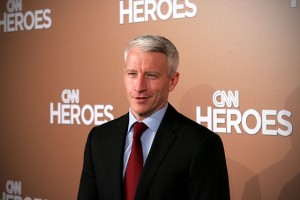 Earlier this week Bill Carter reported on the latest trends in cable news ratings suggesting that Keith Olbermann's departure from MSNBC has damaged their overall ratings. The essay focused primarily on MSNBC's declining ratings in the post-Olbermann era, but buried in the article was another, perhaps more noteworthy, side of the story: CNN's shifting prime time schedule appears to be paying off. In fact, Anderson Cooper has consistently been getting more viewers than Lawrence O'Donnell which has led to primetime viewer growth for CNN of 46% for the month.
By any measure, CNN should be pleased with September's ratings. In addition to the significant growth in primetime viewers, total viewers grew by 34% as well from Monday through Friday (far greater than other cable news networks.) The biggest factor? Well that would appear to be Mr. Cooper, whose AC 360 saw an increase in viewership of 36%, compared to MSNBC's Last Word which was down 35%. 9PM told a similar story: Piers Morgan Tonight 's viewership grew +18% (in demo) while MSNBC's Rachel Maddow Show was down 15% (also in demo). And at 10 pm, the re-airing of AC 360 topped MSNBC's The Ed Show (demo and total viewers).
The point of Carter's piece is that the trend in cable news ratings (or more to the point, the fight for number two behind forever dominant Fox News) is that Olbermann was the "tent pole" which drew the MSNBC eyeballs. But buried in Carter's report are the real numbers:
Mr. Olbermann averaged just over 50,000 viewers in the 25-to-54 measure in September, or less than 20 percent of what he attracted on MSNBC. Still, many of those 50,000 may have previously been viewers of MSNBC — and Mr. O'Donnell was 30,000 viewers behind Mr. Cooper in September.
Fair enough, it's entirely fair to suggest that some of those viewers have followed Olbermann to Current, but Olbermann's total viewer numbers are also half of what they were averaging in his first month at his new home. So the NY Times article seems to neglect the bigger headline, which is that the trend in primetime viewership is pointing towards Cooper at 8PM and Morgan at 9PM, at the expense of their MSNBC counterparts. And while MSNBC chief Phil Griffin has repeatedly said that he isn't concerned by Olbermann's departure, perhaps he should be more concerned by the moves at CNN.
Have a tip we should know? tips@mediaite.com
Colby Hall - Founding Editor