New York Times' Charles Blow: 'Election Is Very Close To Being Stolen Before The Votes Are Actually Cast'
NYT
's Charles Blow: 'Election Close To Being Stolen Before The Votes Are Actually Cast'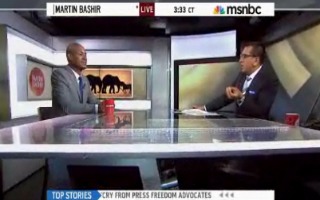 New York Times opinion columnist Charles M. Blow appeared on MSNBC with Martin Bashir on Tuesday where he condemned Republican state legislators' efforts to pass voter identification laws. He said that many of those laws amount to a poll tax and that "this election is very close to being stolen before the votes are actually cast."

RELATED: NY Times' Charles Blow Apologizes For 'Magic Underwear' Comment
Blow and Bashir offered praise for the cynicism of the Republican party's strategy of targeting voters rather than trying to expand voter rolls and appealing to the majority of the American people.
Blow said that Republicans are passing as many laws as they can in states where their party controls the legislature to "restrict people's access to the ballot."
Bashir played a clip of a Pennsylvania Republican state assemblyman who recently said that he was proud of his state's passage of "voter ID, which is going to allow Gov. Romney to win the state of Pennsylvania."
Bashir said that the assemblyman made a candid admission there, that "the strategy for Mitt Romney to win is to suppress the vote."
Blow agreed with Bashir's assessment. "There is no real vote fraud to speak of in America," said Blow.
He went on to say that voter ID laws across the country amount to a poll tax – a device used in the Jim Crow-era South to prevent minority voters from casting a ballot.
He continued, saying that he thinks voter registration limits could deliver one or two percentage points to Republicans which could shift a close election either at the state-level or nationally.
"This election is very close to being stolen before the votes are actually cast," said Blow.
Watch the segment below via MSNBC:
> >Follow Noah Rothman (@Noah_C_Rothman) on Twitter
Have a tip we should know? tips@mediaite.com