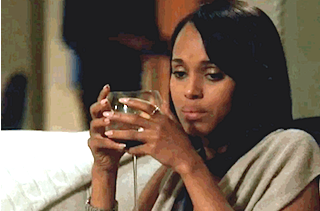 First The New York Times television critic calls Scandal creator Shonda Rhimes an "angry black woman." Now, the paper's wine critic is telling that show's lead character that she doesn't know how to drink wine.
In a new essay on the prevalence of women drinking red wine on TV, Eric Asimov chastises Kerry Washington's Olivia Pope for failing to demonstrate to America what proper wine drinking is all about.
If you've never seen the show, Pope drinks a lot of wine. And she does it out of enviously-large glasses. Occasionally, she has some popcorn on the side, but otherwise, there isn't much eating that happens on this Washington-set thriller.
"But if she is an expert, Olivia treats even the finest wine as if it were a can of beer," Asimov writes. "She habitually grabs goblets by the bulb rather than the stem, as a wine lover would. She never swirls and sniffs, the ritual that non-wine drinkers alternately find amusing, affected or annoying. She guzzles rather than sips."
Here are three examples of Olivia Pope doing it wrong: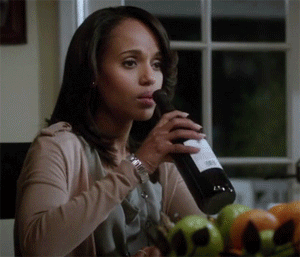 The critic also has some wine-based criticisms for The Good Wife's Alicia Florrick and Homeland's Carrie Mathison, but as he points out, neither of them "claim to care about the nuances as a connoisseur would."
So, what's the deal? Is it a mere oversight by Kerry Washington and the show's many directors? Or is the actress trying to tell us something about Pope's red wine habit? Maybe she's not as much of a sophisticated connoisseur as she seems after all.
[Photos via screengrab/giphy]
— —
>> Follow Matt Wilstein (@TheMattWilstein) on Twitter
Have a tip we should know? tips@mediaite.com