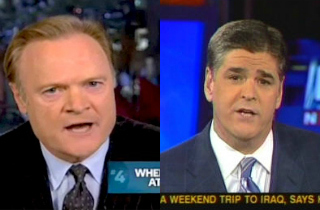 In an article in yesterday's New York Times titled "Dueling Bitterness on Cable News," political reporter Jeremy W. Peters took to giving a comprehensive criticism of the major cable news networks' partisanship as their election season coverage draws near a close.
"Spend just a little time watching either Fox News or MSNBC, and it is easy to see why such tensions run high," began Peters. "In fact, by some measures, the partisan bitterness on cable news has never been as stark — and in some ways, as silly or small."
Peters then cited examples of "silly" partisanship: On MSNBC, Martin Bashir spent a segment assessing "why Mitt Romney seemed irritable on the campaign trail" and concluded that perhaps the GOP candidate "might have mental problems."
On Fox, Peters said, similar "silly" psychological analyses made an appearance: "[O]n Fox & Friends Keith Ablow, a psychiatrist and a member of the channel's 'Medical A-Team,' suggested that Joseph R. Biden Jr.'s 'bizarre laughter' during the vice-presidential debate might have something to do with a larger mental health issue." Ablow cited dementia as a possible diagnosis.
"Neither outlet has built its reputation on moderation and restraint," noted Peters before tearing into MSNBC's "extravagant partisans" like Bashir, Rev. Al Sharpton, and Lawrence O'Donnell, who have all "tested the limits of good taste this year," especially with the latter's vicious segments on the history of Mormonism.
"The channel's hosts recycle talking points handed out by the Obama campaign, even using them as titles for program segments," Peters continued, citing Bashir recent titling of a segment "Romnesia," the phrase coined by the Obama campaign in response to Romney's ever-changing positions.
"The hosts insult and mock," Peters said, citing MSNBC's noon host Alex Wagner, who recently described Romney's overseas trip as "National Lampoon's European Vacation," a line borrowed directly from an Obama spokeswoman. Wagner also described Romney as hapless, "disheveled" and "a little bit sweaty" while reporting on a recent campaign appearance.
Citing inside sources at NBC News, Peters said that such partisanship at MSNBC has put "NBC News journalists who cover Republicans in awkward and compromised positions," having to reassure their sources that they aren't reporting for the cable network.
Fox News was not spared Peters' criticism either.
After noting that "there's a palpable sense that the White House punishes the outlet for its coverage," Peters wrote that the commentary on the network "quickly and often turns to accusations that the White House played politics with American lives."
The bulk of the NYT writer's Fox critique was aimed at Sean Hannity, whom Peters described as "selectively fact-checking Mr. Obama's claims" and citing "hardly objective sources" while openly calling the administration a bunch of "liars."
Full Peters article here.
— —
>> Follow Andrew Kirell (@AndrewKirell) on Twitter
Have a tip we should know? tips@mediaite.com