NY Times Public Editor: If It Wasn't For Social Media, You Wouldn't Know Who Our Reporters Voted For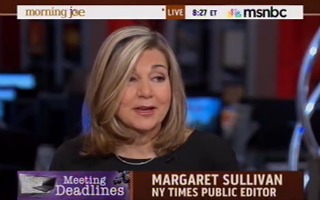 New York Times public editor Margaret Sullivan sat down with MSNBC's Joe Scarborough on Wednesday where she was asked about perceived biases among Times reporters. Scarborough preferred the question by noting that fewer and fewer reporters at The Times have biases that are evident in their reports – an observation which Sullivan agreed with. She said that, were it not for social media, "most of the people who write for the Times, you wouldn't know who they voted for." This take on The Times is in stark contrast to the last public editor who, in his final column, said the paper's reporters and editors share a progressive worldview which "virtually bleeds through the fabric of The Times."

RELATED: Departing NYT Public Editor: Progressive Worldview 'Bleeds Through The Fabric Of The Times'
"Like all great newspapers though, the editorial page reflects the town," Scarborough said while inquiring about perceived political biases among Times reporters. "What are the challenges though? And do you think the challenges are as great as they were 10 years ago? Because I see guys like Jeff Zeleny, Mark Leibovich – I couldn't tell you how they vote in elections."
"It seems the further we move away from the 60s and the 70s and what came out of that, the more we find guys like Zeleny and Leibovich that don't seem to have an agenda," Scarborough continued.
"I think most of the people who write for The Times, you wouldn't know who they voted for," Sullivan agreed.
She said that reporters who strike out onto social media outlets like Twitter can develop an editorial voice and it is from those interactions that reporters can be labeled with biases. "You're exposing who you are," Sullivan said. "You want to be doing that, because you're building your own brand, and The Times is encouraging it, but where do you draw the line?"
"Some people need to be filtered," Scarborough said. "Twitter proves some people need to be filtered.
In August of last year, Sullivan's predecessor, former New York Times Public Editor Arthur Brisbane, accused the Gray Lady of showing a "political and cultural progressivism" that "virtually bleeds through the fabric of The Times."
Watch the segment below via MSNBC:
> >Follow Noah Rothman (@NoahCRothman) on Twitter
Have a tip we should know? tips@mediaite.com