NY Times Public Editor Slams Paper's Stealth Edits on Christie Bombshell Report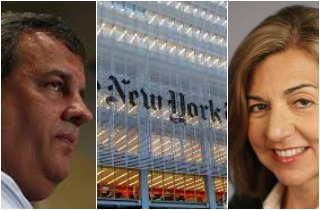 Margaret Sullivan, the New York Times' public editor, criticized her paper and the editors who allowed for major corrections to the headline and lead paragraphs of a story that ran on Friday which suggested that a former aide to New Jersey Gov. Chris Christie could prove that some the statements the governor made during a marathon January 9 press conference were inaccurate.
The story, based on a letter from former Christie advisor David Wildstein's attorney, claimed that the fired aide "had the evidence to prove" Christie was misleading the public when he insisted that he had no foreknowledge of the closure of two lanes of the George Washington Bridge in September, 2013.
RELATED: UPDATE: Former Christie Aide: 'Evidence Exists' Gov. Knew About Lane Closures As They Were Happening
That story was quickly amended and the wording of that lead paragraph changed to reflect that evidence merely "exists" and may or may not be in Wildstein's possession. Those unnoted corrections resulted in sharp criticism of the paper from the governor's office.
New York Times Metro Editor Wendell Jamieson told Sullivan that he did not believe the corrections merited notation at the bottom of that bombshell report. "We made dozens of changes to this story," Jamieson said, "and it's happening live in front of the reader."
"This change was more than a nuance," Sullivan wrote. "Acknowledging that could have taken the form of a straightforward correction."
"The change also could have been explained in an editor's note or could even have been acknowledged in a sentence in the body of the article."
"And in retrospect, Mr. Jamieson does not disagree," she concluded.
Read the full piece via The New York Times
[Photo via New York Times / Reuters]
— —
> >Follow Noah Rothman (@NoahCRothman) on Twitter
Have a tip we should know? tips@mediaite.com