NY Times: Report on Keystone Pipeline's Environmental Impact 'Passed Mr. Obama's Climate Criteria'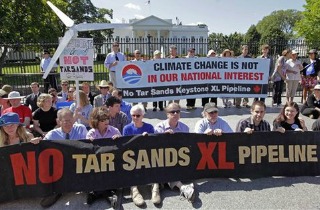 On Friday, the State Department released the results of a much-anticipated study of the potential impact the proposed construction of the Keystone XL Pipeline could have on the environment. The report found that the pipeline, designed to facilitate the transit of oil extracted from Canadian tar sands, is unlikely to be accompanied by significant negative impact on the environment or the climate. The New York Times characterized the report as likely to make it easier for President Barack Obama to approve the long-stalled project.

"The conclusions of the report appear to indicate that the project has passed Mr. Obama's climate criteria, an outcome expected to outrage environmentalists, who have rallied, protested, marched and been arrested in demonstrations around the country against the pipeline," Times' reporter Coral Davenport concluded.
RELATED: WATCH: The Anti-Keystone Pipeline Ad NBC Pulled From Last Night's Tonight Show
While the report concluded that tar sands oil creates approximately 17 percent more greenhouse emission than traditional oil, this product will be brought to market with or without the Keystone Pipeline.
The lack of environmental impacts is not, however, guaranteed to result in the State Department and the White House approving of the project. The report also found that the pipeline's construction would be unlikely to accelerate the extraction of oil from Canadian fields and that railways were just as able facilitate the transit of oil from Alberta, Canada, to the Gulf Coast.
Furthermore, an upcoming review of this study from the State Department's inspector general, which investigated a potential conflict of interest with some of the contractors preforming the review of the impacts of the pipeline, may force the State Department to abandon this review and start fresh.
Sources who spoke to New Yorker reporter Ryan Lizza told him the study is "leaving some room for Obama" so that he is not politically compelled to immediately approve the project.
Read the full report via The New York Times
[Photo via BLANK ]
— —
> >Follow Noah Rothman (@NoahCRothman) on Twitter
Have a tip we should know? tips@mediaite.com