NY Times Reporter Feels 'Anger' Attending Pricey Oprah Show: 'Disorganization and Dollar Signs'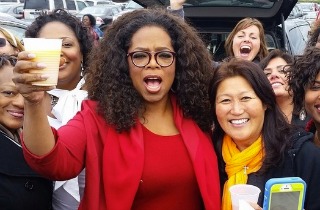 If you're especially hungry, an "Oprah lunch box" is probably not the way to go. At $15, it got New York Times contributor Jennifer Conlin "only half a sandwich, an apple, a bag of chips and water."
Conlin and her quizzically named friend Achla attended Oprah Winfrey's "Life You Want Weekend" tour program outside of Detroit in September and Conlin wrote about the astonishingly pricey experience in a Times Style piece over this weekend.
Tickets, according to the website for the venue that hosted the show, started at $99. Conlin also purchased the $15 lunch, and a Winfrey hoodie and a Winfrey book, which Conlin said were $60 and $25 respectively. That brings her total spent at the program to at least $199.
Though Conlin willingly coughed over the money, she didn't do so without a grudge:
"Would you like to join Oprah's Circle of Friends?" a woman in a yellow sunrise Oprah shirt asked Achla and me, explaining that it is a tiered magazine subscription/fan club that for $199 gets you, among other things, a birthday card personally sent by Oprah. …

It turned out we were not the only ones feeling anger over the disorganization and dollar signs. "I did not come all this way to stand in lines," said Jeanine Smith, who had flown to Detroit from North Carolina to meet her sister and mother who live in Chicago (the family estimated that the cost of the weekend, with hotel, flights, food and transportation, was totaling $2,000).

"I wonder how much you have to pay to not have to pay for stuff?" asked Erica Hobbs, 30, who had bought a ticket for $199. "I came here to be spiritual, not commercial," she added.
Conlin also bitterly notes that she and her friend stood in a 45-minute line to win a free "V.I.P." upgrade for the affair valued at $999. The upgrade guaranteed floor-level seating at the show as well as express lines to different attractions for the weekend. They did not win.
[Photo via Instagram @Oprah]
— —
>> Follow Eddie Scarry (@eScarry) on Twitter
Have a tip we should know? tips@mediaite.com