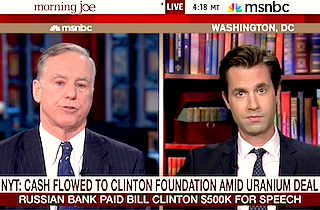 New York Times reporter Jeremy Peters wasn't taking guff from former DNC chair Howard Dean on Morning Joe Thursday morning.
Dean was there to defend Hillary Clinton against charges leveled in a new book and reported out by the Times that the Clinton Global Initiative took undisclosed funds from a Russian oil company as that company was securing State Department approval for deals in the U.S. The article is part of access deals secured by the Times and others to Peter Schweizer's Clinton Cash. Clinton surrogates have spent the past few days criticizing Schweizer as a conservative ideologue funded by right-wing Clinton opponents.
"In general New York Times has been sloppy," Dean said. "Particularly their political writers. I use the Times as an example in journalism classes, because by the fifth paragraph in any political story…they're substituting their judgment for news."
Peters wasn't having it. "I think that is an overly broad generalization that maligns my colleagues and it's unfair of you," Peters said. "I've dealt with you an awful lot, and I don't think you would call me sloppy."
"I would not, but there are plenty of people who write for the New York Times and every other paper that I think are incredibly sloppy and I could name a lot of them," Dean said, not doing so.
Peters is the second Times reporter to confront a critic on Morning Joe this week, after his colleague Nick Confessore dropkicked former Times reporter Judith Miller on Monday. This is all one week after host Joe Scarborough himself went off on the paper for a "naked agenda" against Chris Christie. Everybody delete your account!
Watch below, via MSNBC:
[Image via screengrab]
——
>> Follow Evan McMurry (@evanmcmurry) on Twitter
Have a tip we should know? tips@mediaite.com