NYPD Commish Defends de Blasio: Name One Mayor Who Hasn't Battled Police Unions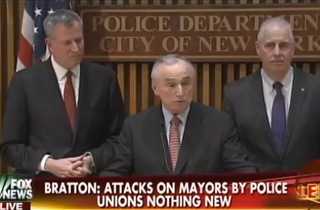 While NYPD commissioner Bill Bratton publicly stood by Mayor Bill de Blasio during today's press conference addressing the murder of two officers, he admitted the obvious: Police morale was low and many officers do not like de Blasio.
"Do some officers not like this man? Guaranteed," he stated rhetorically, referring to the fact that police unions blamed de Blasio's rhetoric for inspiring Ismaaiyl Brinsley to kill two NYPD officers, claiming revenge for the deaths of Michael Brown and Eric Garner.
"Some of you have been around this town for a while," he continued. "Can you point out to me one mayor that has not been battling with the police unions in the last fifty years? Name one. Name one. So the experience this man, in terms of some cops not liking him, is nothing new. It's part of life, it's part of politics. This is New York City, we voice our concerns and we voice our opinions."
He called on the heads of the police unions to tone down their inflammatory rhetoric, and engage in dialogue once the two officers were "respectfully" buried.
"Union leaders are free to say what they feel. That's part of the bargain we have with them," he affirmed, then compared the wobbly morale in the NYPD to the morale in newsrooms facing budgets cuts: "You aim to tell me anyone in this room is running around with high morale at the moment? You're an industry going through great change at the moment. We're going through one as well."
Earlier today, Bratton criticized the cops who famously turned their backs on Mayor DeBlasio during his press conference addressing the deaths of the two officers. "I don't support that particular activity. I don't think it was appropriate, particularly in that setting, but it's reflective of the anger of some" officers, he told the TODAY Show.
Watch below via Fox:

[Image via screenshot]
—
>> Follow Tina Nguyen (@Tina_Nguyen) on Twitter
Have a tip we should know? tips@mediaite.com