NYPD Cop who Berated Uber Driver Apologizes: 'I Let My Emotions Get the Better of Me'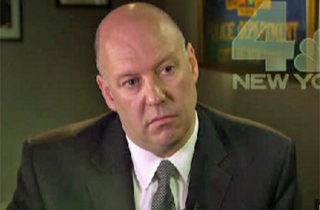 The NYPD officer who was filmed yelling at an Uber driver for honking at him has come out and publicly apologized for his behavior.
"People shouldn't be treated that way. I let my emotions get the better of me and I was angry," the officer, Det. Patrick Cherry, told NBC New York. "My intention was to be courteous and then we got into an argument. There was no intention to berate or hurt deeply the driver."
Cherry, formerly a member of the city's elite Joint Terrorism Task Force, was caught on camera yelling and swearing at an Uber driver, but he "tells NBC 4 New York the Uber driver pulled up fast behind him as he was trying to park his unmarked patrol car on a West Village street Monday and gestured wildly in his direction, yelling." (Earlier reports indicate that Cherry was not using his turn signals and blocking the Uber at a green light.)
Cherry then said that the driver "got smart" with him:
"When I walked up, I was uptight. I wanted to know what the problem was. What did I do that was so wrong that I had to get chastised?" Cherry said. "I felt his driving actions were discourteous and impolite and when he stopped he said, 'I'm not going to give you anything."'

"I was upset that he refused to give me his license and registration and I yelled inappropriately," Cherry added. "That's not who I am, that's not who I've been and that's not how I conducted myself as an officer in New York City," he added.
The video of Cherry's rant went viral, prompting NYPD Commissioner Bill Bratton to strip him of his badge and gun, and New York's taxi drivers to rally in front of One Police Plaza demanding an apology.
Watch below via NBC4:

[NBC News]
[Image via screenshot]
—
http://www.nbcnewyork.com/news/local/New-York-NYC-NYPD-Taxi-Driver-Uber-Cop-Video-Tirade-NYC-Detective-298585531.html
Have a tip we should know? tips@mediaite.com