NYPD Cops Caught on Camera Beating Bronx Man: 'They Were Taking Turns Like a Gang'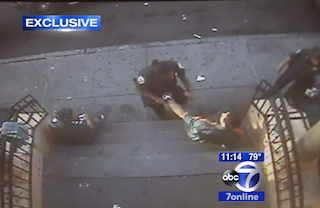 The incident occurred on August 18, but this weekend New York's ABC 7 News obtained both surveillance and cell phone video of an apparently brutal beating NYPD officers delivered to 23-year-old Bronx man Santiago Hernandez after they searched him and found nothing incriminating. According to Hernandez and the video evidence, a half a dozen officers took turns beating and kicking him after they tried to arrest him for asking why he had been searched.
Hernandez was waiting for a friend outside a Bronx apartment when a female officer used the controversial stop-and-frisk tactic. After coming up empty-handed, Hernandez asked why he had been searched. At that point, the officer grabbed his arm and tried to get him in handcuffs.
"She just was telling me to put my hands behind my back, but 'I'm like trying to understand what are you are arresting me for. Can you please tell me?'" Hernandez told an ABC 7 reporter. Moments later, as can be seen in the surveillance photo, several other officers arrived and started hitting the man with the nightsticks and kicking him repeatedly.
"They was taking turns on me. One kicks me, he steps back. Another one comes to punch me and he steps back. And another one comes and grabs my arm and hits me like 10 times with the baton. Another one comes and pepper sprayed me, they were taking turns like a gang," Hernandez recounted.
Asked why he did not simply allow the officer to put the handcuffs on him without resistance, he added, "Because I'm a person to ask questions. If I didn't do nothing wrong, I'm trying to understand the reason, what they are thinking of me, or what was the reason at all to arrest me." At the time of the incident, Hernandez was on parole after spending six years in prison for a gang-related offense when he was 14.
While Hernandez was charged with disorderly conduct and resisting arrest, the Bronx DA decided not to move forward with the case. Along with his lawyers, Hernandez is filing a civil complaint with the city. The NYPD's Internal Affairs Bureau is also investigating the incident.
Watch video below, via ABC 7:
[Photo via screengrab]
— —
>> Follow Matt Wilstein (@TheMattWilstein) on Twitter
Have a tip we should know? tips@mediaite.com