NYT's Charles Blow: Romney Surrogates Stoking Fears Of Obama's 'Black Wife,' Daughters' 'Cornrows'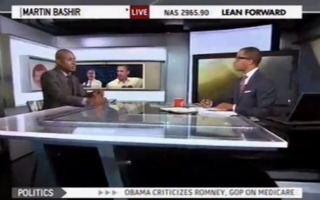 New York Times opinion columnist Charles M. Blow appeared on Martin Bashir on Thursday with guest host and Washington Post columnist Jonathan Capehart where he took on comments by several supporters of Mitt Romney who he said are stoking fears of President Barack Obama's "otherness." Blow said that some of those things include the race of the President's wife and daughters.

RELATED: Marco Rubio On Obama's Florida Speech: 'Sounds Like Speech By Left Wing 3rd World Leader'
Speaking to Capehart, Blow offered his assessment of a comment made by Sen. Marco Rubio (R-FL) on Thursday who wrote on his Twitter account that President Obama's campaign tone resembles, in his opinion, that of a "third world leader."
"It's more than a coincidence at this point," said Blow. "You know, third world countries – most of these are black and brown people."
"You get this kind of accumulation of references that it starts to get to the point where you say, 'This can't just be a coincidence," Blow continued. "They are trying a coordinated effort to drop subtle hints that this man is different from the rest of us and the people who should vote for Romney.'"
Blow said that a number of surrogates for Romney have stoked what he believes are racially-tinged fears of President Obama in recent days. Blow said he finds it suspicious that American differences are usually celebrated by office seekers and their supporters, but Romney's supporters in the media are wary of "his particular set of differences."
Blow went on to say that Romney's path to victory is not in getting people to vote for him but in giving them permission to vote against Obama. Therefore, his campaign has no problem courting voters who harbor racial animus as they do voters with principled policy disagreements with the President.
Mitt Romney knows that the more fire he puts into the belly of that beast – the more he can stoke those fires of people being against Barack Obama, for whatever reason that is. And some of those can be, you know, real policy differences. 'We have different ways of seeing how we want to lead the country.' Some of them can be very nasty reasons. 'We just cannot get used to the idea that this man is running around the White House. And, you know, the daughters have cornrows and he has a black wife.'
Watch the segment below via MSNBC:
> >Follow Noah Rothman (@Noah_C_Rothman) on Twitter
Have a tip we should know? tips@mediaite.com