O'Reilly Demands Obama Denounce Occupy's 'Agitators And Anarchists,' 'Trying To Create Terror'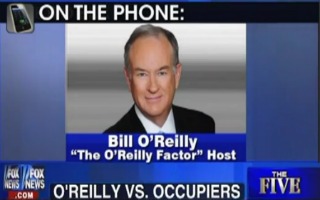 Fox host Bill O'Reilly called into The Five on Tuesday where he demanded that President Barack Obama clarify for the American people whether he still supports the Occupy movement after a series of protesters were arrested in Chicago for conspiring to commit violence and terroristic acts during a NATO summit.

RELATED: Hannity Destroys Occupy Organizer In Fiery Segment About Movement's Violence
Co-host Eric Bolling asked O'Reilly whether he believed that the Occupy movement today is a "terror group." O'Reilly said that would depend on the definition of terror and said that the organization is now largely dominated by "agitators."
In the beginning, it was kind of regular folks. They didn't think they were getting a fair shake on the economy. They were demonstrating for economic justice and income equality. Now, it's hardcore agitators and anarchists. They are very well organized out of Washington and they go to cause trouble. To me, when you go to cause trouble, you're trying to create terror.
Fill-in host Juan Williams asked O'Reilly if he planned to walk back his comments calling Occupy a terrorist organization, to which O'Reilly responded "I'm not walking anything back."
"You tell me what NATO has to do with income inequality," O'Reilly asked Williams. NATO represents the "powers that be," replied Williams.
"These people have no clue," said O'Reilly in response. "They're hard-core socialists, most of them." Let's just be upfront about who they are. And they're goal is to cause trouble."
O'Reilly said that he recently went to a Broadway play where he was confronted by an Occupy activist with a video camera. He said he was targeted by the occupier in spite of the fact that he was accompanied by three children. "You tell me whether that's terrorism or not," O'Reilly asked Williams.
"I think it is," said Williams. "They wanted you to hit him as I understand."
"This is the second time this has happened now," said O'Reilly. "They don't want to debate."
All groups have extremists within the group. So I'm not going to demonize the Occupy Wall Street movement because some guys want to blow up a bridge. That's not fair. What I'm saying to the public is that this is not the same group that started a year ago.
O'Reilly said that "Obama is in trouble here" because he is linked to the Occupy movement due to supportive comments he made about the group in 2011. "The President has not repudiated the group," said O'Reilly in spite of violent acts that were made by some linked to the Occupy movement.
"A lot of these protesters are his base," said co-host Andrea Tantaros. "He probably likely believes in what they're doing because he already said he supports it. But if he doesn't' and he stays silent, he risks alienating conservative or moderate Democrats or independents."
"Are you going to continue to support a group that stabs police officers and burns things down," said O'Reilly. "Are you or are you not? Yes or no?"
O'Reilly went on to say that many of the tactics that are embraced by the Occupy organizers no longer fall within the limits of acceptable free speech.
O'Reilly concluded by saying that if he were managing the Mitt Romney presidential campaign, he would instruct Romney to demand the President clarify his position on the Occupy protesters.
Watch the segment below via Fox News Channel:
Have a tip we should know? [email protected]