O'Reilly: Low Approval Ratings Among Muslims Strange When Obama Is 'Coddling The Muslim World'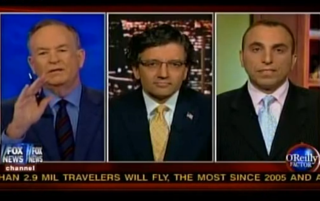 President Barack Obama's mideast speech today riled up many on the right for what they considered his heavy hand on Israel, but tonight Bill O'Reilly highlighted a parallel trend to his disapproval from the right: his approval ratings among Muslims appear to be in decline as well. Given that O'Reilly characterizes his foreign policy as "coddling the Muslim world," he found the phenomenon difficult to explain, and asked Muslim commentators to weigh in.
O'Reilly shot down most of the arguments that both commentators made for why Muslims outside of the US may feel uncomfortable with the President's current foreign policy. The first, Kamal Nawash, president of the Free Muslims coalition, argued that much of it was relative deprivation after having an "irrational exuberance in what [Obama] is going to do," and a believe that the Obama administration would "respect their sovereignty," particularly in the Pakistani mission to kill Osama bin Laden. O'Reilly rebutted that quickly, arguing that "if we ask [to enter Pakistan], they tip off the terrorists." Nawash, a bit surprised by the outrage, noted that he was merely answering the question, to which O'Reilly jokingly replied "yes, I deserve to be scolded by you" and explained that he was "a little frustated because it's insane."
As for Muslims in America, Dr. Zuhdi Jasser argued that they may be dismayed by the soft language of the Obama administration, arguing that more Reaganesque rhetoric would do Obama good in the polls. "It is time for an administration that can call an evil administration evil," highlighting the work Reagan did with the Soviet Union. This argument was a bit more down O'Reilly's alley, though he did conclude that he believed radical Muslims were terrorizing a majority into silence, which drove some ratings.
The segment via Fox News below:

Have a tip we should know? tips@mediaite.com